2022 Trends in Mergers & Acquisitions (M&A)
December 27, 2021 •ROARK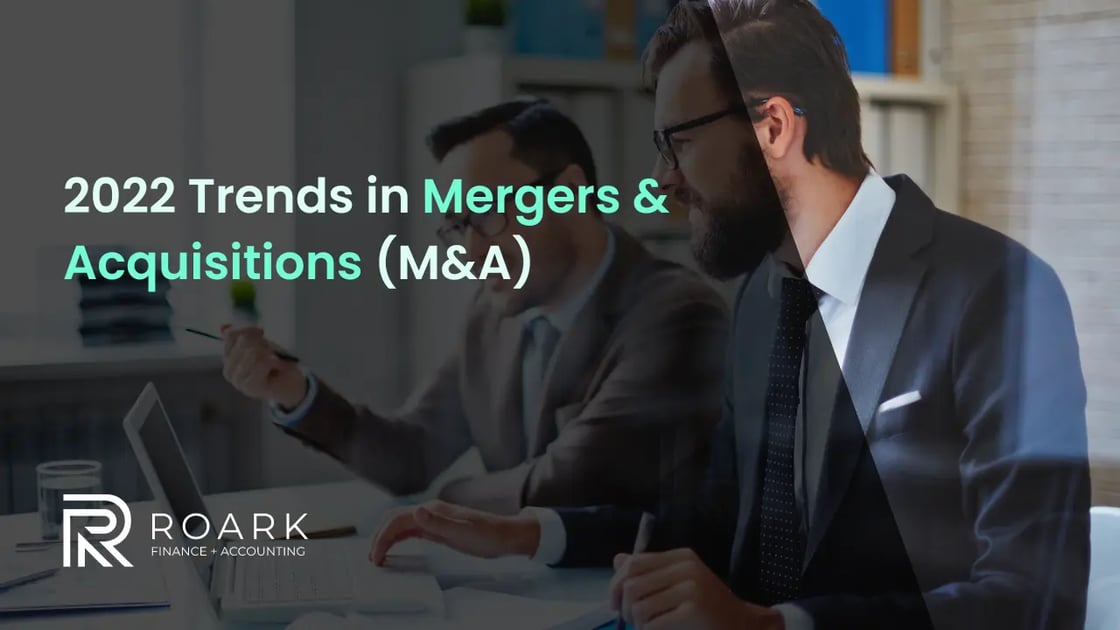 Are you curious about the latest trends in M&A? If so, you're in luck. In this blog post, we'll take a look at some of the most popular trends in M&A for 2022. Mergers and acquisitions are the epitome of the business owner's success and the greatest financial transaction that you'll enter into in your life. So, whether you're looking to sell your business or are interested in buying one, be sure to read on!
Growth expected in M&A in 2022.
M&A is presently extremely popular, and it has been for some time due to a variety of reasons. When we consider the pool of growth potential in M&A deals that executives expect in the next year, 76% of CEOs believe these transactions will occur within the following year. It's incredible. Now why is this?
We're seeing very active, private equity activity. Lately, we've seen a lot of IPOs. And we have a lot of owners who are seeking to exit for various reasons, including tax issues and reaching IRA or social security age limits. So M&A growth is expected in 2022.
Value Creation is driving M&A activity in 2022.
Look, there's value being created during this time. So when we talk about synergies within businesses, we're talking about industry verticals where there is growth, and it allows firms to provide competitive products and services to their customers that they service and sell to. It's really propelling a lot of value in the market as a whole.
M&As continue to see high valuations in 2022.
Look, why are people selling so well? Because valuations are at an all-time high, I recall thinking a few years ago that my goodness, how incredible it is how high these valuations have gotten. We haven't seen them before. Valuations continue to rise.
Exits will continue in 2022.
As valuations rise, more and more people are seeking to take advantage of it by being able to sell. Exits will continue, and they'll become increasingly popular. This is a great time for owners to cash out on what they've built.
SPACs are paused but many still exist in 2022.
Despite the fact that SPACs have been halted, there are still a significant number of them. I was talking to a client the other day, and they were a private equity fund. They created a dedicated group for SPACs specifically. So, I think what's happening in the SPAC market is that we saw a lot of momentum early on. So some people are simply stepping back and asking, how do we put this all together so it can continue to be successfully deployed?
Private equity firms will be active in 2022.
Private equity is currently a big deal. Private equity has many firms that have broken off from large firms. You see a lot of development in private equity as a result of this. There's a lot of competition in the market, and investors are becoming more creative in their search for higher yields.
Dry powder is at an all-time high. Some of you may ask, what is dry powder? Because I remember thinking that myself at one time, that's the cash available in the investment fund that they need to deploy. And some of these funds are under pressure because they raised all this capital.
So now they are looking for good transactions. Private equity companies are becoming increasingly aggressive. This is one of the reasons that company valuations are going up and competition is heating up. Even on transactions, private equity firms appear to be lowering their normal EBITDA requirement for investments, resulting in even more exits.
M&A Trends in 2022 - A conclusion.
M&A trends are changing every year. It is important to stay abreast of the current changes in order to make informed decisions about your company's future. If you want more information on what these 2022 trends mean for your business, don't hesitate to schedule a consultation with one of our experts today!