5 Keys to Hiring the Right Finance and Accounting Professional in a Hot Market
April 8, 2022 •ROARK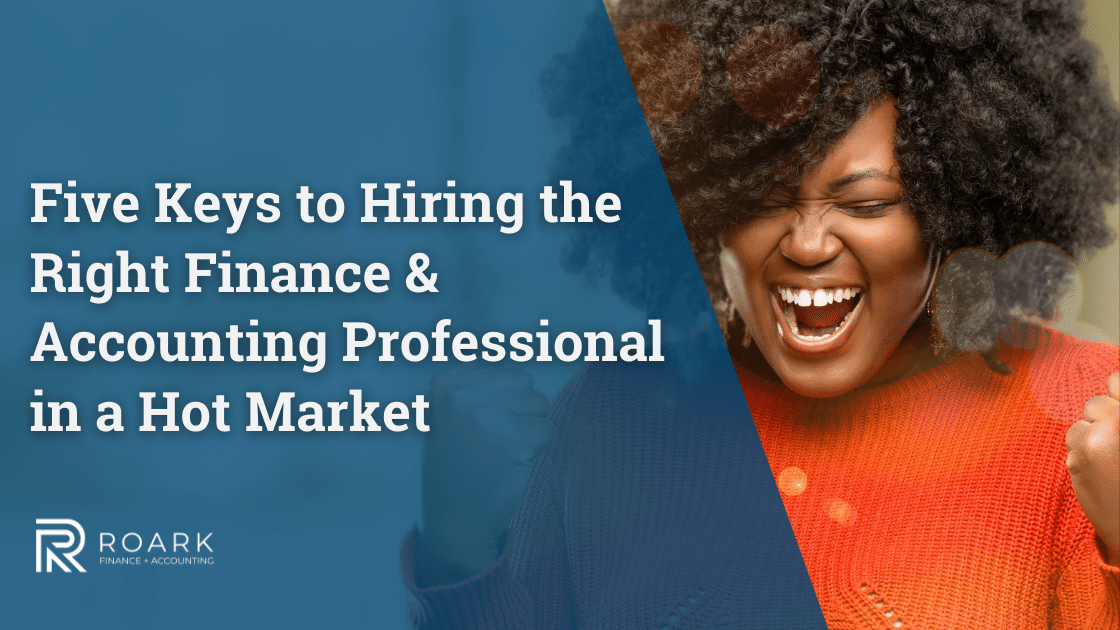 With baby boomers retiring, people working remotely, the great resignation, and a 70-year low in unemployment, finding great people in finance and accounting can seem impossible. Today, let's talk about the five keys to hiring finance and accounting professionals in a hot market.
#1 Get clear on the role that you need.
It's so important. You don't want to just shoot for the target. You want to shoot for the bullseye. The first part of doing that is understanding the skill sets that you need for that position, not only today but for the next three to five years from now. Also, you're going to want to make sure that you don't lump accounting and finance together.
They're different disciplines. And as you move up in the organization of accounting and finance, you start seeing crossover. But it's very important that you get a clear understanding of whether you need an accounting position, a finance position, or a mixture of both. You're also going to want to look for industry-specific experience.
When you look at industries like manufacturing, construction, or software technology, they're very different in key areas that are important, whether it's revenue recognition, cost recognition, or what to capitalize. There are all sorts of things to consider as you look at different industries. And you're going to want to make sure that you have not only the accounting side of it covered but the finance side too.
Also, make sure that you're targeting the individuals that are comfortable with change. We've seen so much change in the last few years and business is continually changing. They say, if you're not growing, you're dying. Make sure that you have leaders that are going to be comfortable with making those changes, and implementing the things that are going to positively impact your business.
#2 Don't rush the hiring process.
I know you may be stressed with someone leaving and a lot of work that is piling up. But hiring needs to be done right away. Don't rush the hiring process. Make sure that you get the right professional. Now, if you find the right professional, you need to jump on them right away. But at the same time, you don't want to fill the" idea" of filling the seat. Just realize from the beginning, that hiring, especially in a very tight market is going to be time-consuming.
It's getting the right professionals that are out. There's not a whole bunch of people in transition or unemployed at this point. Most people are fully employed, and a lot of companies are trying to seek them out right now. And if you find a professional that was rather easy to find, realize they may not be happy or they may be unemployed. And being unemployed isn't necessarily bad. Companies sell, different things happen, but they get soaked up right away. If you're seeing people that are unemployed or people that are leaving, because they're unhappy – you want to make sure that you understand why that is. There are very good and legitimate reasons, but making sure you understand them, can avoid a disaster in hiring.
And rushing the hiring process could lead to turnover. The worst thing that you can do is go through this process, bring someone in, get them trained, spend all the money, get the management team acquainted with them, just to go, oh my goodness, this isn't the right person. And then you must start all over again.
That becomes extremely time-consuming and very expensive. And there could be damage that's done in the meantime if you don't have the right professional in place. Also, these positions, aren't something that you hire every day. For most companies, accounting and finance is a small part of the bigger equation. Even if you have an internal recruiting team like manufacturing. They are typically good at hiring engineers or line workers.
Technology's very good at hiring programmers. Consider looking for a search firm. So just like those people who are doing it every day, hire someone who does this every day, the stakes are too high for making bad decisions or ruining investor, banker, and lender relationships.
Using an executive search firm allows you to tap into the experience of those who recruit finance and accounting A-players every day.
#3 Consider hiring an interim professional.
When replacing a key position, consider hiring an interim professional. Look, they can come in and immediately help with the immediate needs of the organization, whether that's closing, reporting externally, or reporting internally.
They can take that pressure off. They also keep the team and the process moving. CFOs and Controllers are so vital to an organization's success if they're doing it right. The interim professional while they may not know the organization right away can jump in and keep that process moving and hold down the fort.
And that also gives you the time to hire the right professional for the position. Again, don't be rushed because you don't want to do this over again. Bringing that interim professional in gives you that time to do the job right.
#4 Hire for culture fit.
While technical skills are important, it should be a given, that brings us to point Four make sure you're hiring for culture fit. Don't put too much weight in technical skills. They may be great technicians, but if you don't have amazing leaders that agree with the core values of the company, then you're not going to have someone that's going to be a long-term fit, or they're not going to jive and lead the organization like you expect them to do.
And the cultural fit is very important to long-term success. If you don't have cultural alignment within the organization, that's going to affect the people who are reporting to the person, the relationships at the peer level, or even the relationship at the top level. You want to make sure that they're supporting your culture and driving your company the right way.
And the best way to do that is to look at core values and see how they align. If you have a defined set of core values, you're going to want to ask questions and behavioral questions around that. You can really get a good understanding of how they will react in the given environment.
But also realize that you can always train technical skills.
Accounting and finance are very dynamic professions and designations like the CPA and the CMA require continuing professional education. So, realize even with technical skills, it's only for a given point in time, they're going to have to continue to grow their skills, to be able to continue to bring value to your organization.
#5 Offer a competitive salary and total compensation package.
That brings us to point number five, and this is probably one of the most difficult things right now because it's ever-evolving, make sure you're offering a competitive salary and looking at your total compensation package that's being offered for the position. The first thing you're going to do is want to understand what the salaries look like in 2022. They have absolutely changed and they're different than even a few years ago.
You're going to want to make sure that you understand what those changes are and how they're affecting the market. You're also going to want to make sure that you're offering a competitive salary, bonuses, and other programs like potentially equity programs, depending on the level of position. Make sure that you're highlighting paid time off and flexibility and work schedules.
These are things that professionals are asking about more now than ever such as hybrid work or remote work at this point. And then make sure that your package for benefits is very attractive and other perks programs. You need to be out in front of these. Professionals are asking for benefits and perks more than they have in recent years.
And you're going to want to make sure that you have a very competitive package to be able to attract and retain the best talent.
Conclusion
Let's recap. The five key areas were:
First, get clear on the finance and accounting role and what you need.
Second, don't rush the process. Make sure you take the time to do it right.
Third, consider an interim professional to take some of the heat off.
Fourth hire for culture. You can always train for additional skills as necessary.
And finally offer a competitive salary and total compensation package.
We wish you the best in hiring the best finance and accounting professionals in a hot job market. If you have any questions, don't hesitate to reach out.