Does Outsourcing My Business Finances and Accounting Actually Save Me Money?
September 11, 2022 •ROARK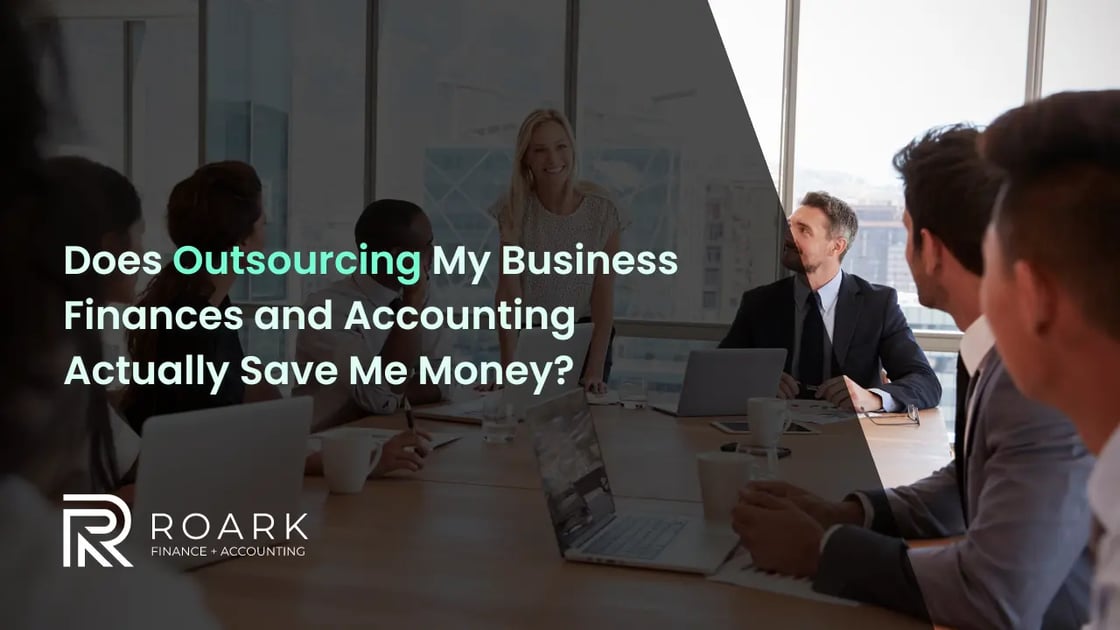 Many startups and small businesses believe that having a single on-site accountant, or possibly doing the accounting themselves will save them money. This could not be further from the truth. The only time this might be possible is if the small business is a solopreneur running the operations from top to bottom all on their own. If that is the case, their business is likely very small and not in need of an on-site accountant, virtual accountant, or even a virtual assistant for basic bookkeeping tasks.
However, because accounting functions can be complex and extremely time-consuming, outsourcing an accounting firm frees up valuable time that is better spent on critical business functions – like generating sales and revenue.
Maybe you've decided on the accounting firm you want to outsource your financial tasks to, or maybe you're still undecided – we can help you with that – we understand one of the biggest questions as an entrepreneur you are asking yourself is – does outsourcing to an accounting firm actually save my business money?
In this article, we'll discuss with you when you should consider outsourcing your accounting tasks, the costs associated with outsourcing, and what you can potentially save with an outsourced accountant.
When You Should Consider Outsourcing
Before hiring an outsourced accounting firm, you need to consider the reasons for outsourcing finance and accounting functions. Outsourcing these functions and additional activities helps you and your staff concentrate on the company's core functions, and controls costs. A few questions to ask that help determine if outsourcing is needed are:
Is your company working at the best possible and most favorable cost?
Are you using available resources to the fullest?
Are currently available resources able to support new technology and get past the market competition?
Do you have other efficient ways to handle processes more efficiently and professionally?
Does your accountant or financial team have the professional expertise to meet your business needs?
How can you cut down on recruitment and training costs?
If you've determined that you're not operating at optimal levels, it may be time to consider outsourcing your accounting and financial operations. This alleviates the stress of time-consuming actions and decreases your need for technology and staff. Because accounting firms manage their employees, they take on the training, payroll, benefits, PTO, and other employer-provided benefits.
What It Costs To Hire an In-House Accountant
Depending on the size of your business and where it is in the growth cycle, you might be considering hiring a full-time accountant or even building an accounting department. Financial functions of small to mid-sized businesses are typically distributed amongst one to five employees, each having a different role.
CFO
Controller
Accounting Manager / Sr. Accountant
Financial Analyst
Staff Accountant
Using the ROARK Total Compensation Guide and looking at salaries of a small team, the total annual salary for a department that includes the above team averages out to about $720,240 (which equates to $60,020 monthly).
However, as a business owner, you know that salaries are just the beginning of the cost of hiring in-house employees. You must also consider taxes and benefits, bonuses, the costs of turnover, and other indirect costs. These costs can add up quickly, averaging about $386,903 annually ($32,342 monthly), and create a burden on your business income. Between salaries and other costs, that's $1,107,143 annually ($92,262 monthly).
This means that hiring a full-time finance and accounting team can cost about $90K/month. Compare that to an outsourced team, which can cost between $5k to 12K per month, and you'll realize the savings you can have.
What Are the Other Benefits of Outsourcing Financing & Accounting Services?
Now you have an idea of the cost of an in-house finance and accounting team vs outsourcing. With outsourcing, the firm is responsible for hiring, training, paying, providing benefits, and their overhead costs, instead of your business. These savings alone should convince anyone, but there are additional advantages, and savings outsourcing provides.
Roles & Responsibilities
Getting started with your outsourced accounting firm is easy. Outsourcing companies use what is called an "engagement model." This is a set of guidelines defining the relationship between the outsourcing provider and the client. In this document, the roles and responsibilities that both companies fulfill, obligations, commitments, and the length of the contract.
Hiring & Staffing
Your company won't have to worry about staffing. That means no time is spent on the interview or hiring process. It also means there won't be any money spent on wages and benefits. Outsourced accounting firms have in-house or third-party executive-level staff that are available to companies on demand, down to data entry clerks. Having the right people doing the right things lets you focus on scaling and growing your business. Outsourced accounting firms will take care of all of the staffing needs for you!
Fees & Costs
Depending on your outsourced firm and company needs, accounting fees are generally billed hourly or monthly. According to the International Organization for Standardization (ISO), outsourcing helps companies reduce an average of 15% of their costs. These savings are boosted by the number of accounting operations outsourced and other changes implemented in-house.
The Harvard Business Review indicates cost reductions of about 20% to 30% by outsourcing non-core business processes. Processes like billing and payments, payroll, and bookkeeping increase efficiency and create the time needed to focus on critical business functions.
Additional Benefits
Outsourcing can indeed save your company money, but there are additional benefits when outsourcing your accounting and financial operations. Capability-sourcing is an organizing process to gain best-in-class capabilities for a firm's value chain and ensure long-term competitive advantages.
Outsourcing your finance and accounting operations not only saves you money, but it furthers the firm's market penetration and provides customers the feeling of security that things are done right and on time.
You've Found the Right Accounting Firm With ROARK
If you're considering outsourcing your accounting and finance functions, it's essential to understand the cost savings experienced by not hiring an in-house accountant or accounting team. At ROARK we are experts in finding the right plan for your business to help you save money and time hiring, training, and paying an in-house employee.
Schedule a consultation with us if you want to learn more about accounting and finance outsourcing.