The Difference Between Accounting and Finance in Business: The Basics
November 5, 2021 •ROARK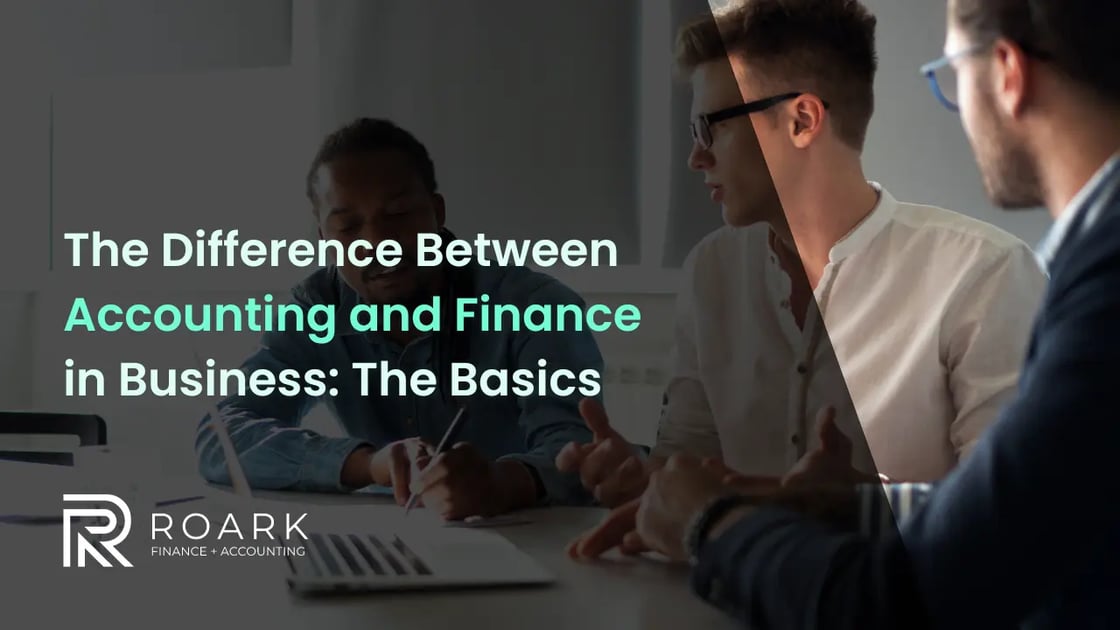 Do you know the difference between finance and accounting? While they are part of the same field, business owners need to be aware of these two terms. Accounting is all about numbers and financial statements, while finance focuses on how money flows through a company.
The truth is that many entrepreneurs don't have much time to think about this distinction because their focus has been elsewhere– like getting their businesses off the ground or just trying to stay afloat. In order to help your business grow, you can understand these concepts and make sure that you're making good decisions for the future of success.
Let's take a look at some fundamental differences between accounting and finance and what each means for business owners today.
What is accounting, and what does it do for a company?
Accounting is a business function focused on keeping track of the company's financial information.
Accounting will prepare any necessary reports for internal and external communications, such as annual tax returns or reporting to shareholders.
The accounting department also handles all banking transactions within a company: deposits, withdrawals, transfers between accounts, etc.

What is finance, and what does it do for your company?
Finance is a large part of a company's operations. Finance includes activities such as acquiring and managing capital, which can consist of both the money that is invested into your company by shareholders or loans from other entities like banks.
The finance department also manages cash flow, preparing budgets for management to review and decide how much should be spent in specific departments per month.
What's the difference between accounting and finance then?
Accounting is the recording of business transactions to track and balance out income, expenses, inventory, assets and liabilities. It can also be used for tax purposes.
Finance includes cash management which considers how much money a company will need for everyday operations and long-term needs such as capital investments.
Key points:
-Accounting is very much focused on transactions and balancing out the books, whereas finance has a broader scope, including managing cash flow or preparing budgets.
-Finance also manages capital investments, while accounting doesn't necessarily have this responsibility.
The difference between accountants and financial analysts.
Though often misunderstood, the roles of accountants and financial analysts in a business are vastly different.
Accountants work with numbers to maintain the records of past transactions, prepare taxes, and ensure that necessary reports are submitted for stakeholders outside the company. A financial analyst in a company is focused on assessing a company's financial health and may have responsibility for preparing budgets, managing cash flow, or handling investments.
A day in the life of an accountant inside of a company
-At the beginning of each month, accountants might be tasked with balancing out all the accounts. This could involve reconciling cash receipts to deposits to ensure that there is a balance between them; or checking one column against another for inconsistencies.
-Accountants may also have other business duties such as preparing reports on financial status and forecasting trends.
A day in the life of a financial analyst inside of company:
-A typical workday might entail looking at trends within their industry sector, researching company performance across different regions, and assessing risks inherent to new ventures.
-Financial analysts are expected to provide recommendations about what should be done next by way of managing cash flow resources or investing corporate assets.
Key takeaway:
So what is accounting? Accounting is very much focused on transactions and balancing out the books; it's about recording business transactions so that you can track income, expenses, inventory, assets, liabilities, and capital.
So what is finance? Finance includes cash management as well–which focuses on how much money a company needs every day versus long-term needs such as investments.
The difference between CFOs and controllers.
Often business owners are not sure of the difference between a Chief Financial Officer and a Controller, which are both leadership positions.
The responsibilities of a Chief Financial Officer typically include overseeing all aspects of finance, managing financial performance, and planning for the future. This includes overseeing the accounting function within finance.
The responsibilities of a Controller typically include overseeing accounting activities in an organization, including budgeting, forecasting, and reporting, and maintaining control over assets and liabilities, which means managing how much money is coming into your company versus going out.
Why companies need both finance and accounting.
Accounting deals with record-keeping and reporting decisions for your company's finances. Finance helps to analyze all the data to make important decisions about how best to direct the organization. Accounting and finance are two pieces of a successful business puzzle that need each other to thrive.
CFOs oversee all finance departments while Controllers ensure the accounting department stays compliant.
The Controller is more hands-on when it comes to financial reporting, whereas the CFO oversees this process across different divisions and reports back recommendations for change if necessary.
A controller will have their fingers in everything that has anything to do with money. In contrast, a CFO manages all phases of fiscal management, including planning, budgeting, forecasting, and monitoring performance indicators like ROI and cash flow projections (CF).
Both roles are vital for any organization's success, but they focus on different aspects, which makes them suited for specific tasks within an organization.
The differences between accounting and finance are many, but they both serve a valuable purpose in your company's success. By collaborating with an expert from our team at ROARK, you will be able to make informed decisions about which areas need more attention or investment for future growth opportunities. Whether it is hiring new staff members in executive positions, ensuring you're GAAP compliant, or helping you get through an audit, we can help you get on top of these important tasks that may otherwise fall through the cracks as business owner's duties become overwhelming.
To learn more about how we work with clients to ensure their numbers never lie (pun intended!), give us a call today!
We'd love to help you create the right accounting and finance program in your business, schedule a consultation.