10 Tips to Boost Your Confidence for Your Next Interview
November 5, 2021 •ROARK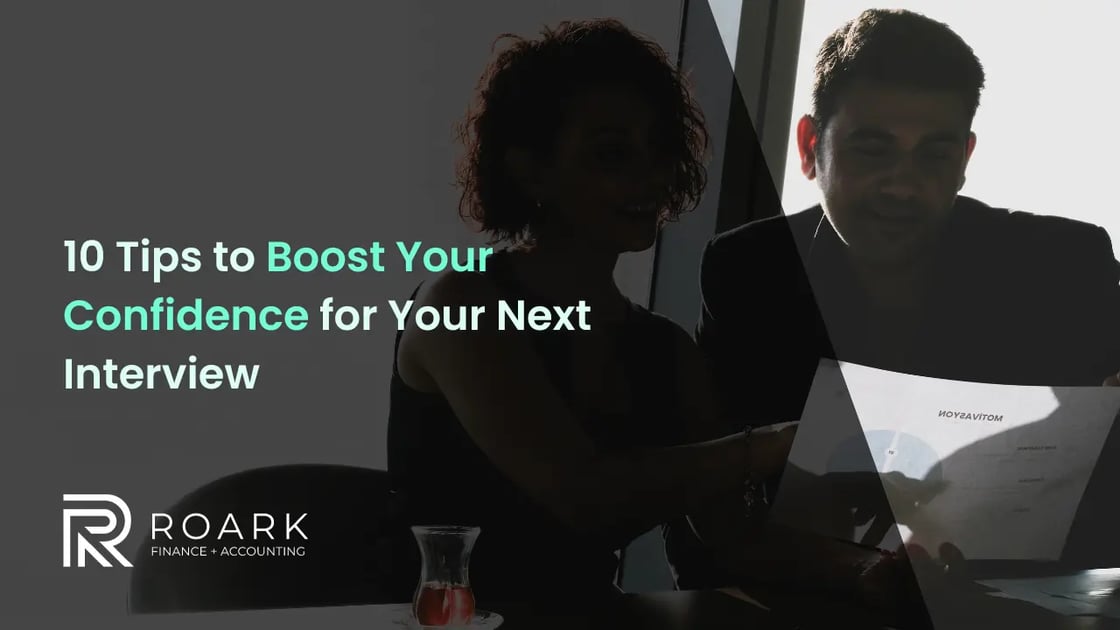 Are you confident about your interviewing abilities? I don't think the majority of us are. An interview is a stressful event that can put you into a fight or flight mindset. Your start to sweat, you may get nervous and lose your train of thought, you just hope you make it through to the end. WE ARE HERE TO HELP!
Based on conversations we have had with professionals just like yourself we have put together 10 interview tips that we feel will help boost your interview confidence and help you ace your next interview.
1. Dress to impress.
Make a great 1st impression. A nice suit or a business-appropriate dress. Get your haircut a day or two before. For the guys make sure you are clean-shaven, or your beard is trimmed. For the ladies don't go overboard with the make-up. Keep it professional. Even if you know the environment is more on the business casual side of things. A great first impression goes a long way in how you will be perceived.
2. Be early.
When you show up at the interview time you can feel rushed causing you to seem scattered and unorganized. You never know what may happen leading up to your interview. An accident on the freeway, a flat tire, TRAFFIC for no apparent reason! Allow some extra time to handle the unexpected. Arrive 10-15 minutes early. This will allow you to settle in and get emotionally and mentally prepared for your interview.
3. Research the company.
Companies love to be loved! Naturally, you want to go into the interview with the employer curious to know more about you, but the employer is also curious to hear what you know about them. Do your research. Know what they do. Look up any recent articles to see if there is any important news or announcements. Look up the individual you are interviewing with on LinkedIn. Try to find something you both have in common. If you do this, they will be flattered and impressed.
Don't skip this step! Find out everything you can about them. Google them. Go to their website and read everything that is hidden under the heading "About Us." Check to see what their social media pages are saying. Finally, use your network to see if you can connect with a current or former employee.
4. Focus on your experience.
Prepare in advance. Give specific examples of your experience and how it relates to the position you are applying for. Brag a little about some of your accomplishments. You need to stand out from others with similar backgrounds.
While at Company X, I was able to lead the upgrade of or transition to a new ERP
While at Company Y, I revamped the accounting system, which ended up in increased efficiency in handling accounting controls.
While at Company Z, I implemented internal audit procedures that identified $100k in annual cost savings and revenue opportunities.
5. Be positive.
The executives surveyed said interviews take an average of 55 minutes for staff-level job candidates and 86 minutes for management-level applicants. Even if you fear you've already made a negative impression in the hiring manager's mind, stay positive and focus on what you can do during the rest of the meeting to convince the employer you're right for the job. Consider whether you are making any common nervous mistakes — such as rushing your responses or not listening to the full questions — and adjust your communications as necessary.
No matter how well you prepare for an interview, things may not always go as smoothly as you had hoped. Whether you become tongue-tied or are thrown a curveball question, roll with the punches. Keeping a positive attitude and remaining confident in your ability to land the job is one sure way to impress any hiring manager.
6. Do not dominate the conversation.
Try to remember the 50-50 rule. People who get hired are those who mix speaking and listening in the interview. If you do too much talking, you come across as one who will ignore the needs of the organization. If you talk too little, the interviewer may not feel like you are engaged or listening to their questions.
7. Ask questions.
You want to show that you have an interest in them as well.
Have there been any challenges filling this position and if so, what are they? You have interest in their process and the position, and it will give you some insight into the types of individuals they have been interviewing. Which in turn leads into the next question.
Are there any concerns you have with me stepping into the role that I haven't addressed? Be prepared to actually address their concerns when they tell you or don't ask the question.
As you know, I am actively interviewing. I think I would be a great fit for this job. With that being said, when may I expect to hear an answer from you? You're valuable. Create some fear of loss and be honest about the fact that you may not be available if they wait too long.
8. Discussing salary
Never discuss salary until the end of the interview process, when and if they say they want you.
Never be the first one to mention a salary figure.
Let us help you. It can make it easier if we help you through the process. We love to negotiate for you! That is part of our services to you.
9. Stay calm
Don't overthink it. An interview is a conversation between two people. You are getting to know each other and trying to determine if this would be a great long-term relationship. The interviewer is nervous as well. They want to make sure they are asking the right questions, that they hire the right person. Both individuals are looking for their ideal match. It's your 1st date and you both are working towards the 2nd date.
10. Say Thank You.
Thank the interviewer for his/her time and send an additional thank you note via email. Touch on your experience during the interview and briefly mention why you feel you would be a good fit with the team and in the position.
Do not skip this step! It shows you care about the position and that you appreciate their time.
The ten interview tips laid out above are the ones we feel are the most important to help get you prepared for your next interview based on our feedback and experience.