Types of Finance and Accounting Software for Small Businesses to Consider
September 28, 2022 •ROARK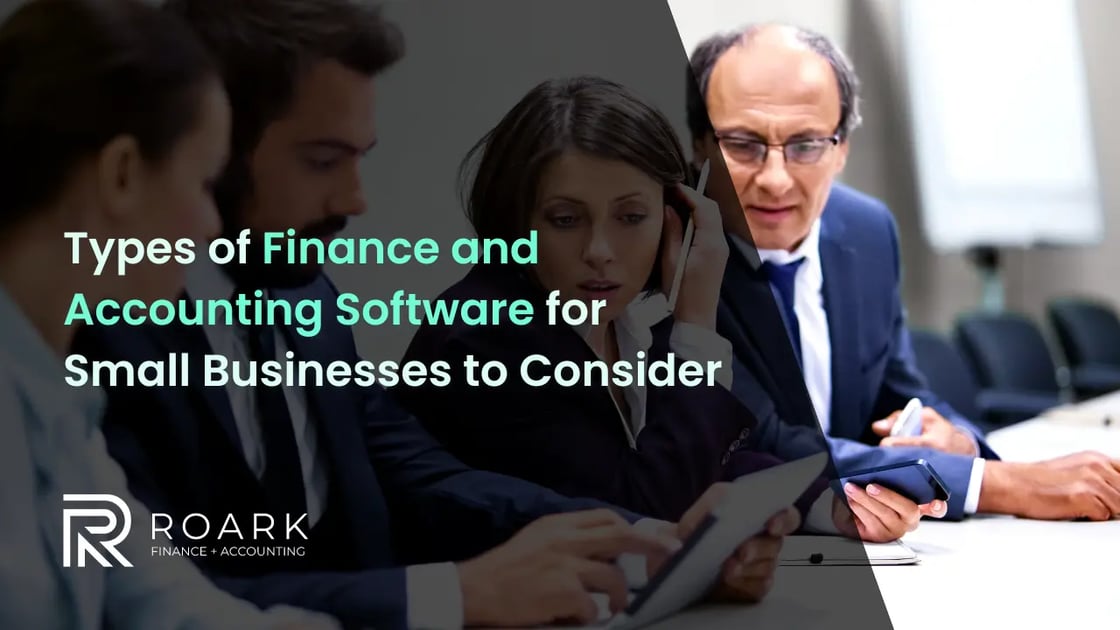 Running a small business means juggling many tasks at once. As it grows, the finance and accounting (F&A) department takes on more and more work.
Over time, the number of transactions skyrockets, and your business needs become more complex. Excel spreadsheets are no longer cutting it. If your F&A is struggling under the weight of time-consuming tasks, it's time to integrate technology into your company.
Today, technology for businesses goes far beyond Excel spreadsheets. Software can step in to take over manual operations to streamline your operations, saving you an incredible amount of time and money.
Around 80% of businesses already use at least one SaaS or software as a service. They're reaping the many benefits software for business offers, like –
Fewer errors
Improved employee efficiency
Greater customer experiences
Higher sales, and
Faster conversions
These benefits are only a glimpse into software's potential to transform your business.
Today, we'll talk about our recommendations for the best small business tools that integrate together. We'll also show you how they help you manage your business with high-level insights like a big company would have without the price tag of the advanced tools these enterprises use.
Why Do I Need Finance Software?
Most small businesses don't have the proper accounting and finance tools and still rely on Microsoft Excel or basic accounting software. They're missing out on saving time and money.
In 2022, finance software is more helpful than ever. Since almost 75% of accounting tasks can be automated, it's unthinkable for small businesses to operate without one.
Tasks like bookkeeping and expense management are automated with software now – so you don't have to pay ridiculous labor hours to manually complete them.
Developing financial reports and closing the books is easier than ever. Companies save money and free time for higher-level activities like strategic planning when they delegate time-consuming tasks to technology.
Every company has different needs when it involves tech – so it's crucial to find the right fit before buying. Our experts at ROARK are familiar with the vast amount of finance software available, and we've recommended different ones based on our client's individual needs.
The following list is our most recommended choices for small businesses – accounting, expense management, and forecasting software.
We know every company is unique, so we've chosen software that can fit your needs and grow with you. Remember, they're not the only excellent software out there. You can find more high-quality software across the web. Just make sure they fulfill these traits of good small business software:
Ease of use
Useful features
Scalability
Integration ability
Multiple users, and
Cost-effectiveness
What Types of Finance Software Are There?
When companies outsource their F&A, they'll still have to purchase their own software licenses – but their team will give them recommendations for cloud-based software that integrate with their systems, meet their needs, and save money.
Many small business owners see financial software and think of accounting tasks only. They don't realize how much more they need beyond automated bookkeeping and financial reports. Outsourced F&A helps you find software that automates:
ERP systems
Cash management
Expense management
Forecasting tools
Business intelligence, and
Reporting
As your revenue grows past $1 million and up to $30 million, you'll need an entire finance tech stack composed of several software types that integrate with each other.
For the most streamlined operations, utilize the three finance software in concert with each other as part of your tech stack – accounting, expense management, and forecasting software.
Accounting Software
Our three recommendations for accounting software are Quickbooks, Sage, and Oracle Netsuite. We think they're the easiest to use and the most bang for your buck when it comes to simplifying accounting operations.
This highly rated software is popular with small to medium business owners because it helps them look at the long-term vision of their company without being bogged down by the accounting side of things.
Quickbooks Online boasts a simplified, streamlined accounting service that covers everything. Their support offers, but is not limited to:
Expense tracking
Invoicing services
Real-time inventory tracking
Bill management, and
Project costing
With Quickbooks Online, all your accounting data is available in a secure cloud. You can back up your data, automate your workflows, and receive customized reports from expert accountants on how to improve your business.
They even have a service called Quickbooks Live Bookkeeping that provides you with a team of Quickbooks-certified professionals to handle your bookkeeping.
The software also integrates with other programs, making it even easier to use. These include point of sales platforms like Square and expense management apps like Expensify.
Prices for Quickbook Online vary depending on the number of services you need. An overview of their plans is listed below, sometimes with a promo of 50% off for three months.
| | | | |
| --- | --- | --- | --- |
| Simple | Essentials | Plus | Advanced |
| $30/month | $55/month | $85/month | $200/month |
We recommend Quickbooks Online because it's easy to use with a wide range of capabilities. They created a clean, organized ledger that makes managing payroll, accounts receivable, and accounts payable less of a headache. We also love the customizable software that categorizes your transactions according to your needs.
Sage is well-known for its unique, niche-centered services tailored to the construction and real estate industries. This software company is top-rated for small and medium-sized businesses because they're affordable, user-friendly, and offer extra features that other software doesn't have.
These extra offers are the unlimited users, transactions, and charts of accounts available through their Sage Accounting plan.
The software also includes management of:
Cash flow
Accounts receivable
Accounts payable
Integrated invoice payments
Reporting
Multi-currencies
Reconciliations
Stock management, and
Billing
Sage promotes itself as more than just a software company. They also boast exclusive benefits like Member Masterclass, where their users can access talks and articles by industry experts.
Members also receive free training and certification opportunities, including a community forum where professionals can ask questions and share advice.
Sage offers two plans for accounting management, sometimes with 70% off for 6 months through their premium plan.
Sage Accounting Start

*Best for the self-employed and micro-businesses

Sage Accounting

$10/month

$25/month

Entry-level accounting software
Create and send invoices
Track what you're owed
Automatic bank reconciliation

Powerful cloud accounting software for small businesses
Everything from Sage Accounting Start, plus:
Automatically snap and post receipts – free for 3 months
Supports unlimited users
Send quotes and estimates
Forecast cash flow
Manage purchase invoices
We love Sage's accounting software because it's painless to install and implement and compatible with other third-party solutions programs. Non-accountants can use this software easily, making it simple to track income and expenses, compile statements, and manage profit margins.
This software is a game-changer when you outgrow the initial, lower-capacity SMB accounting software.
Oracle Netsuite provides highly-praised cloud accounting services that can expand into full-on enterprise resource planning software (ERP) when your business grows.
Their software was created to improve the efficiency of accounting processes and provide solutions for growing small and medium-sized businesses to thrive.
Oracle supports companies through streamlined software where all your accounting actions are managed in one place.
The program will help you improve financial controls, quicken financial close processes, and produce accurate reports.
Some of their features include the management of:
General ledgers
Fixed assets
Payment
Accounts receivable
Accounts payable
Taxes
Closes, and
Cash flow
This advanced software can also help you avoid issues by maintaining compliance, automating manual taskwork, and providing real-time data accessibility.
The cost of Oracle Netsuite's accounting management plans vary significantly based on your company's needs. You'll pay monthly licensing and per-user fees to access their services.
It's worth noting that Oracle Netsuite is known for being expensive, so it's best for booming businesses that expect to need an ERP and have increasingly complex accounting processes.
For successful and expanding businesses, we love Oracle Netsuite because it dramatically boosts productivity. Manual and spreadsheet-based operations are shortened by 70% with their software's back office system.
Netsuite also saves money, with up to 93% savings on IT services used for integrating and maintaining other applications. Best of all, that cash flow is easily visible with real-time dashboards and KPIs.
Cash and Expense Management Software
There are tons of great cash and expense management software options, but we chose Bill.com and Devvy because they're developed to be used together, making them a cut above the rest.
Bill.com is a cash management software that reduces the hassle of managing billing through automation so you can focus on your mission.
They work with small and medium-sized businesses that are looking for simplicity when it comes to invoicing and payments. Bill.com works especially well for industries like non-profits, hospitality, and healthcare.
This software is specialized in accounts payable and accounts receivable management. They provide a clear picture of your cash flow and simplify your tech stack, making tasks like paying bills exceptionally easy.
Some of Bill.com's software features include:
Invoice templates and tracking
Sync capability with accounting software and ERP systems
Advanced security and compliance protection
Automatic routing
Real-time AP workflow visibility, and
Customized AP controls, and
Payment options like ACH and international
Bill.com's subscription plans are separated into receivables, payables, or both, and they're further divided into basic and advanced plans.
Accounts Payable

Accounts Receivable

AP & AR

Essentials

Team

Essentials

Team

Corporate

Enterprise

$45/month

$55/month

$45/month

$55/month

$79/month

Custom
We think Bill.com is the best cash management software because it integrates with our other recommended software, like Quickbooks, Sage, and Oracle Netsuite. It's also a huge time saver, saving 50% of the time on your accounts payable and 60 hours of labor on processing payments.
Divvy is an expense management software developed by Bill.com. They developed it for small to medium-sized businesses as a partner for their bill management software.
Divvy works by streamlining your expenses and spend management systems. The software handles all of the following automated tasks:
Invoice management
Restriction of spending over budget
Expense reports and reconciliations
Real-time budget and spending visibility, and
Instant categorization
This software comes with other features, too, like:
Virtual cards
Spending rewards
Reimbursements
Credit builder program
Mobile app
Accounting software integrations
Payment services, and
Reporting and insights tool
Divvy also offers business credit up to $15 million for every size company. The approval process is simple, and there's no annual use fee.
The best part about Divvy is that it's free, and those benefits and features are part of their no-cost, no-contract, and no-hidden fees service.
We obviously love Divvy because it's free, but also because it saves tons of money. Their customers have reported over $10,000 in monthly savings since using the software. Their industry-leading security system that protects your company's financials from fraud and data breaches is a good plus.
Forecasting Software
Choosing the right forecasting software is essential for guiding your company into the future. Our two choices alert you of outcomes so you can adjust your strategies and have the greatest success.
Jirav is an all-in-one finance planning and analysis (FP&A) software powered by driver-based financial modeling. They focus on boosting your company's growth by transferring the hassle of FP&A from the user to their technology.
Jirav starts with integration by connecting to your existing tech stack. Once it has access to your accounting system, it'll instantly develop your company's balance sheet, income statement, and statement of cash flows on an easy-to-use dashboard.
With your three-step financials, you can move on to strategic planning, where Jirav will jumpstart the process by allowing access to industry-specific 80% plans. Some of those include workforce, sales, and business plans.
You can create driver-based models, plans, and forecasts from scratch or customize them using this software.
When it's time to test your models, Jirav helps you track actuals against multiple scenarios for the most precise forecast. You'll then be able to adjust strategies to reduce risk and make the most money later.
Ultimately, it's time to share your findings with higher-ups and stakeholders. Jira's collaboration features allow easy communication between management for quicker agreements on decisions.
As for pricing, Jirav has 3 subscription plans that offer different ranges of services.
Starter

Pro

Enterprise

$500/month

$1,000/month

Custom

Short-range planning window

Plan and report on performance vs. actuals

Mid-range planning window

Collaborate with your team on multi-year plans and scenarios

Long-range planning window

For teams requiring long-range, complex planning and integrations
We love Jirav because its customizable dashboards are so easy to use. Reporting is done in a heartbeat, and the hassle of spreadsheets is a thing of the past. They provide companies with the key tools for accurate forecasts and financial success.
Fathom is a business intelligence and reporting software that gives businesses insights and fast cash flow forecasting. It includes financial analysis, management reporting, cash flow forecasting, and consolidated reporting.
Their financial analysis system monitors your KPIs and creates visuals of insights.
The management reporting develops automated reports to share with key team members to make strategic plans.
Fathom's three-way cash flow forecasting helps companies get a clear picture of their future financials and the methods to improve them.
Lastly, the software's consolidated reporting system eliminates the manual process and inaccuracies involved with reporting. Their system automatically updates information as it comes in, so your reports are always up-to-date and ready to go.
Other features of Fathom's software include:
Customizable report templates
Variance reporting
Access control
Content Library
Report editor, and
Branded reports
Fathom's pricing is based on the number of companies you connect with the software.
| | | | |
| --- | --- | --- | --- |
| Starter | Silver | Gold | Platinum |
| 1 company | 10 companies | 25 companies | 50 companies |
| $48/month | $250/month | $360/month | $650/month |
All of these plans come with:
Unlimited brandable reports
In-depth analysis tools
Group benchmarking
Multi-currency consolidations
Cash flow forecasting
Unlimited users
Multi-channel support, and
Certifications and training
We love Fathom because of its visualization and customization. You can see your finances in a clear light, generate reports, and create projections using their tools. The polished visuals make it easy to present financial data to higher-ups and stakeholders. It's an excellent choice for small and medium-sized businesses.
Which Software is Right for My Business?
Technology can make or break your company's productivity. It can disrupt the process or streamline it, depending on whether your tech stack is conducive to your success.
The list below is our choices for the best technology to improve your business's finance and accounting operations.
We'd like to note that we work with various businesses, so we know the software we described isn't necessarily the best choice for your business because you could require industry-specific technology. We'll figure out what that is when you work with us.
If you want to improve your company's F&A operations using software, we're here to help. Part of our services at ROARK include technology recommendations, which means we'll advise you on the best tech stack for managing finances.
Whether it's developing more insightful reports or managing cash flow, the software can get you there. Once we get to know your company, we can recommend the best kinds of software to help you reach its fullest financial potential.
Let's get started with a conversation. We're ready to talk tech and find the best kind for your company's financial needs.