Why should you consider working with an executive search firm exclusively?
August 5, 2022 •ROARK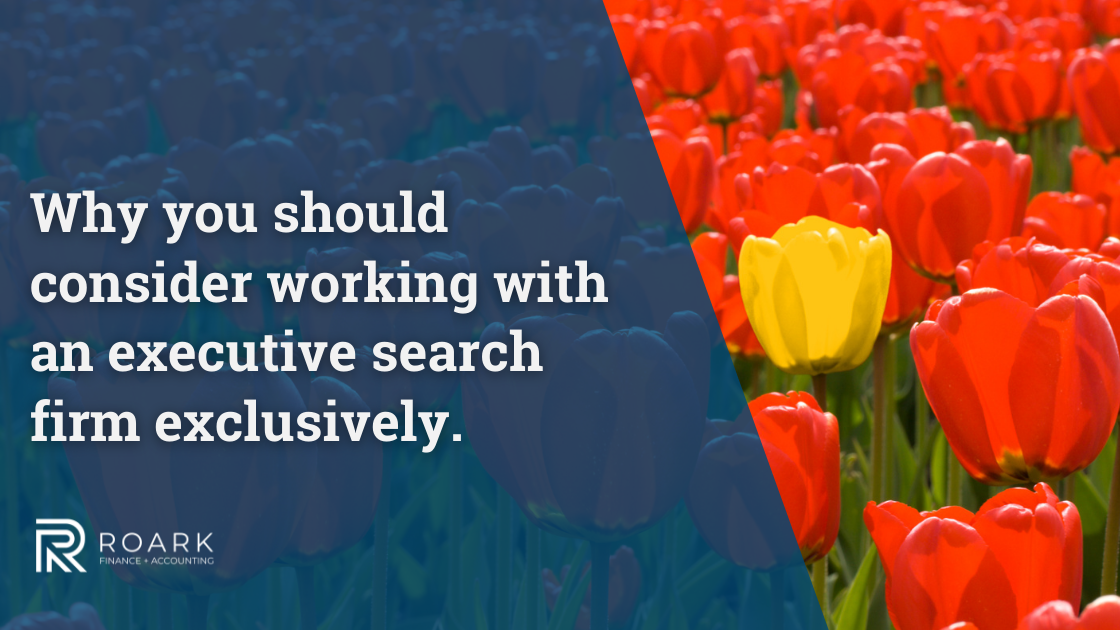 Exclusivity. It's a word that really could be to your advantage whenever you're looking at an executive search relationship, but so many people don't know enough about it and are afraid of it. Today, we'd like to talk to you about why you should consider working exclusively with an executive search firm on your next key role.
What is exclusivity in executive search?
First, what is exclusivity? A lot of people have different conceptions and misconceptions about exclusivity. Exclusivity is just giving the time to work with a provider.
After all, you don't hire three gardeners to mow your lawn, right? You only need one, but you need one to do the job, right? And if you're able to find that person that has the expertise work with that one, as opposed to having three different people, mowing, blowing, and chopping your trees at the same time.
Key Things to Consider: Exclusivity
Why would you want to work on an exclusive basis with a firm?
First of all, it's going to give you a better product.
So I've (Eric Roark) been on both sides of this equation. I've been the CFO hiring, and I've also worked now in our executive search practice to help companies hire. And there are a lot of things I didn't know that I do today about the industry and how it works. I totally believe exclusivity is the only way to go for the right circumstances and the right positions.
And we'll talk about that in just a moment.
Consultative/Industry-Focused Experience
But you'll get a better professional and you'll get a better experience. Exclusivity is good for high-level important positions. And here's the reason why. You really want someone in that case where you may or may not be the expert.
But even when I look at a CFO, they're not necessarily an expert in hiring, they are in working in the accounting industry, right? Or for that company. But being able to get that broad level of view of industry and market experience is really important. And having that consultant on your side, that does it every day with companies, seeing what other companies are doing and being able to understand industries and where they're going and help coach you through that experience is pivotal.
It makes such a huge difference in the outcome of that product. And if you're working with someone on an exclusive basis, it allows them to be consultative and help form that map or that plan of what you're looking for whenever you're hiring and taking you through the process to get you to the best hire.
Commitment Level From Your Executive Search or Recruiting Firms
If you have multiple firms doing on an unexclusive basis, what they're doing is they're just giving you people as quickly as they can. Because if they don't get it to you quickly, the first person wins in that race, right? Not necessarily the best person wins. And when people are all the difference, it's just too important not to.
Something that I've learned, that has been very interesting as I've been working in the executive search practice and seeing different firms out there, if you're on a non-exclusive basis, I've actually seen firms quit on clients and not tell them which absolutely blows my mind. So ROARK's philosophy is when we take on an engagement and exclusive engagement, especially we don't stop until it's done.
But what we see is when you hire these multiple firms, if they find someone quickly and this is how they make money, right? Then they're going to get someone to you. If not, they may work on other searches that are quicker and easier. And if I am a person that needs a financial executive that helped really bolster and move my organization forward, I want to know the person that I hire is committed.
And when you give that level of commitment to them with exclusivity, you should expect the same level of commitment back. I kind of say, it's like the infantry going in versus the Navy seal. Our team's the Navy seal. And they're going to go take that hill or they're going to die trying one or the other is going to come first.
Exclusivity Allows Recruiters to find the Best Fit
Exclusivity also allows recruiters to find the best fit for your role in your company. As you go through the hiring process, hopefully, you just didn't hire your last controller, CFO, or senior accountant, and you're having longevity. But if that is the case, then the roles change. The business changed.
Things changed as you go. So if you're working exclusively with someone, they can be consultative as you go along and be able to show you different things. Versus if you're working with multiple people again, they just got to get the quickest and best person out for you. When you work exclusively with a firm, it also opens the doors.
Access to Passive Candidates
Typically what happens with staffing firms is they go out and get the active people. Individuals that lost a job. Individuals not happy or aren't in the best of circumstances or working with the best people out there. Now there are really good people that lose their job. There are really good people that might be in bad environments, but that is the, say if we do 80, 20 rule and it's a lot less than that, the 20%.
But whenever you work with an executive firm, it gives them the time to go after these passive people, people that may not be looking people that may be on the rise. Maybe they're not in the right culture, maybe the business sold, maybe the commute's different. Maybe they're ready to take that next great step.
And there isn't a spot. This opens up the door to many more people that you guys can look at and we'll be better for you. The other thing is if you're not fighting over and playing Dogpile over a lot of other firms, it gives you the ability to sort out and weed out people. So you get fewer people that, that are better for your needs.
Fewer, More Qualified Candidates Presented to You
You're a busy professional. That's why you hired a firm in the first place. And if they're throwing a whole bunch of resumes at you that has to take a lot of time, a lot of interviews. If you get into this exclusive relationship, it gives the security back to the firm that they're able to weed them down and get you those fewer people.
So it preserves your time, which is extremely valuable.
Exclusivity at ROARK in Executive Search
So if we take that model and we look at the exclusivity model with ROARK and why you may want to work with ROARK. First of all, we're only focused on finance and accounting positions. It's what we do. It's where our network is at. It's where our training is at and where our specialty and dedication is.
We assign you to a dedicated search consultant. This becomes even more critical because as we get to learn about your company, your culture, your organization, and where your dreams and aspirations are, we become even better. So we look at this, not as a transactional or being a vendor, we really want to be a partner with your firm.
And it goes beyond our service, it goes beyond that in other ways that we help your business.
We have two different products that we offer in this capacity.
Executive Search at ROARK
One is the executive search again for this is great for positions that are $150,000 or more and by giving us the time to do it right, we also will give the time back in the guarantee because we're so confident with what our product is.
One Year Quality Guarantee with 90-Day Exclusivity
We offer a one-year guarantee, which only 2.5% of firms in the nation will do. We're able to do a national search so we'll find the best professional for you anywhere in the nation if you want to do a relocation. We're looking for 90 days to be able to put somebody in the seat.
Premium Search at ROARK
We have our premium search product, which is great for the below $150,000 to the senior level positions. This is important because finding those rising stars could be huge for your organization, not from the position that they're in today, but the positions that they can obtain as they go along the organization.
6-month Quality Guarantee with 60-Day Exclusivity
And we'll do this premium search at a regional search level. These are people usually earning anywhere from $90,000 or $100,000 up to $150,000. And then we look for exclusivity for 60 days, so it's not forever. You do have a time period. But this is the time that we're looking at to get a person in that position or very shortly after.
Work with ROARK on your next Executive Search
If you're interested in ROARK helping you find your next finance or accounting professional, contact us, and we'll help you find that professional that best fits your company.
At ROARK, we believe that people are the difference in the business, and working with an exclusive arrangement with a firm will get you the best people to give you a competitive advantage.