Eight Things Business Leaders Wish They Knew Before an ERP Implementation
November 5, 2021 •ROARK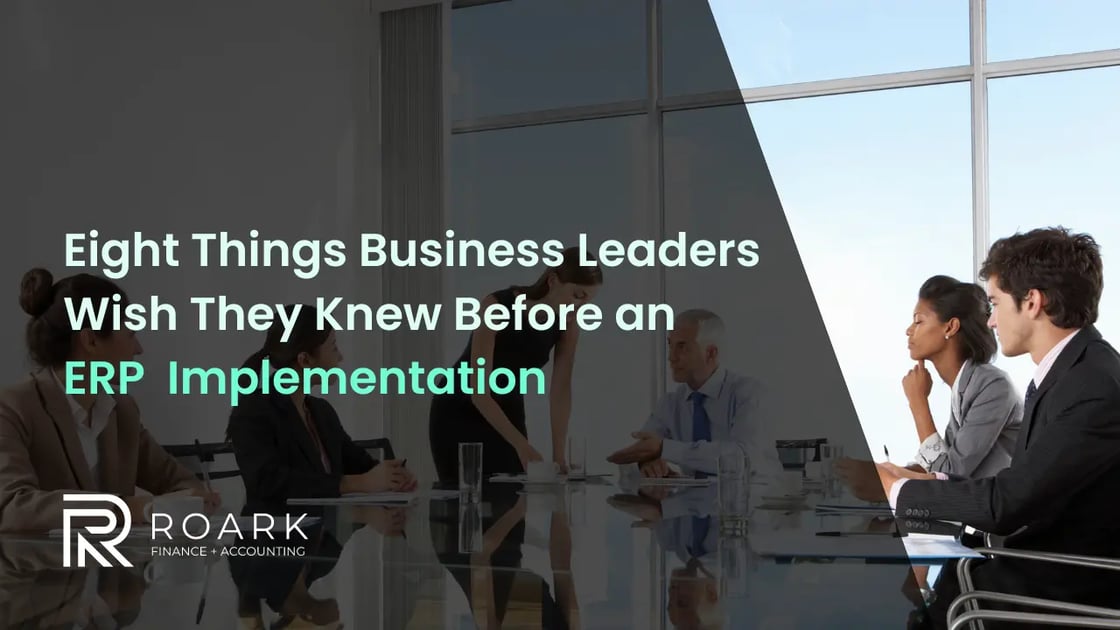 Anyone who has completed an Enterprise Resource Planning (ERP) implementation knows that they learned many lessons along the way.
Hi, I'm Eric Roark, the CEO of ROARK – an accounting and finance consulting and executive search firm. And today I want to talk about the eight things that everyone should know before starting an ERP implementation.
Complete Executive & Leadership Team Buy-in During an ERP implementation
To succeed with an ERP implementation, get the leadership team on board. From the CFO and CEO to support staff, an ERP implementation affects everyone in a company.
For a successful implementation, it is essential to get support from all parties. Some organizations make decisions at C-Suite levels, while others have a broader spread of management.
To succeed in this first point, which is to get the buy-in of the leadership team, you need help from people at all levels, and it must be obvious that everyone is on board in a leadership capacity.
Be prepared to adjust your processes to the ERP during your implementation.
If you're planning to buy a new ERP system for your company, be prepared to go through the process of adjusting your current business processes to the new system.
Considering the large number of ERP implementations providers are doing, they have developed many best practices. Selecting an industry-specific ERP when possible is excellent. The system will be best suited to your needs, and that makes it even more appealing.
Take advantage of the built-in knowledge with your system and fight against resistance to go back to the old way.
Minimize customizations during your ERP implementation
Third, you will want to minimize any software customization to reach the desired ERP functionality. It is essential to distinguish between configuration and customization.
Configuration is the process of setting up a program the way it's naturally intended to be used. Customization is adding on new functionality or changing the software so that it can achieve a specific objective.
However, not all customizations are bad. It is important to consider the cost/value of each customization before making a decision.
Generally, when people build on customization, it negatively impacts the speed at which updates to the system are released and may cost more money. So it makes you a lot less agile.
You should carefully consider any customization you plan.
Change Management is critical during an ERP implementation.
Everybody embraces change differently. Many people are skeptical of change, but we find that everyone has a different threshold for it.
So, it is crucial to communicate with all employees what you are planning on doing and the value of how these changes improve them to be active participants in the process.
Communicate often during the process, and embrace change agents. Organizations typically have a spectrum of people with varying degrees of enthusiasm for change.
Those who enjoy being at the forefront of change and want to be seen as influencers will help get the word out, so fostering those employees as change agents is important.
Use the 80-20 rule during ERP implementation.
You should apply the 80-20 rule during the ERP implementation. Perfection is the opposite of something that's 100% correct in this case. So it's vital to be able to get the most important things completed and move items. Look, if you can get the 80% going, there's always going to be fine-tuning and stuff like that.
The 20% fixes and updates – you can make those during this process. If you get the other 80% completed, then you will always be progressing. Even if you tried to do that at a hundred percent and get it perfect, you're still going to be wrong because there's no way of anticipating all the needs of an organization.
Make sure to stick to the 80-20 rule. You'll get there sooner and everyone will be happier as a result.
Augment your staff during ERP implementation with consultants/integrators.
Look, I made the mistake of trying to achieve a significant–and critical–ERP project with only our existing staff. Most organizations have employees who are fully utilized.
The scope of an enterprise resource planning (ERP) implementation will cover nearly every part and department of your company. It is seldom possible to take on a project because there would not be extra bandwidth. When a project starts to go over schedule, those tasked with working on the project are likely to feel frustrated – customers, vendors, and employees.
That's why it's important that you find consultants and integrators you trust who have the experience needed to handle your situation properly. To ensure the overall success of this project, we must recruit outside contributors who can bring new insights and help point out all possible future issues.
And this has a strong return on investment, typically avoiding overages and frustration/damage to relationships.
Train your team on new ERP tools and processes.
Be sure to train your team on the new tools and processes. A well-built workflow or system will not be effective if the people in your company ignore it.
So, this product's advancement relies on user adoption and clearly shows users how it will improve their lives.
Users may not adopt or know how to use the system efficiently if training is not provided. Good training helps with adoption. Training is when you will experience much of the friction and resentment from those who are resistant to change. That can be a significant risk to the success of the ERP implementation.
Now, some companies try to go out and use the VAR or the people who sold them the ERP to do training. And they do great work explaining how to use the tool, but it's one thing to know how to use the tool––another is knowing how to integrate this new strategy into your organization.
And this is where consultants can be effective because they may already work at your company, working with the people and understanding their needs. They can also help with adopting the process and training that will make your operation successful or project a success.
Keep all information "IN" the ERP after implementation.
It's essential to stick with the system after everything is in place. Make sure people don't revert to old habits and adapt their behaviors to the system.
Maintaining momentum is crucial to successfully adopting any new system or idea. It would be best to reduce manual processes and ensure teams don't revert to spreadsheets. If you're not carefully managing that, there is a genuine risk that people will fall back in the following months.
Implementing a new system is vital to ensure that you get all the benefits of it and that employees are continually informed about any changes.
This is a great time to reinforce best practices. Recognize this person. Hey, ____ did a fantastic job with the software – look at the great stuff they are doing!
Get that culture built up to adopting and being able to use the new system. And you will go far as your employees assume.
Conclusion
These are the eight things that every business leader should know before they start an ERP implementation. It's going to save you a lot of time, money, and frustration. You'll look like a hero because of your successful ERP implementation.
If you do need help with an ERP implementation, schedule a consultation with our team at ROARK.