Best Practices for Finding the Right Chief Financial Officer (CFO)
February 21, 2023 •ROARK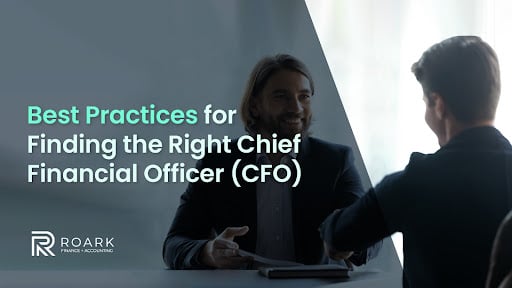 One question we frequently hear during this season of performance reviews and year-end preparations is: "How do I know if my Chief Financial Officer (CFO) is doing a good job?"
If you're actively searching for a CFO or just planning ahead, this is the perfect question to ask. Let's explore some of the mistakes we often see when companies are searching for a CFO—along with best practices to help you find the right person for the job.
5 Common mistakes businesses make when searching for a new CFO.
Mistake #1: Hiring the wrong CFO (or hiring a CFO when you don't need one yet).
You may be wondering if you should hire a chief financial officer. The better question to ask is if you know what kind of professional your company needs.
You might find a great professional and then find out later on they don't have the right experience your business needs to achieve its goals. Hiring the wrong type of professional for your business' growth stage can be disastrous.
First, identify if your business is experiencing any of the following scenarios:
Struggling to raise capital and build out a product or scale

Frustrated with wasted spend at a time when you need to fund growth

Stumbling in a maze of complexity that comes with launching a public offering

Considering a Merger or Acquisition

In bad times and need a specialist to bring you out on the other side decisively
Each situation needs a different type of expertise from the CFO to be successful.
Next, read about the 5 different types of CFOs to identify the kind of leader your company needs and create a very clear job description for the role.
Finally, if you're not quite ready for a CFO you may want to hire a Controller first. Read this article about the difference between a CFO vs. Controller to learn more.

Watch the video above to learn about the 5 types of CFOs.
Mistake #2: Lack of defined measures for success in the position.
The next mistake we see is a lack of agreed-upon metrics for success. How can you know if your CFO is doing a good job if neither of you is clear on what is being measured?
To begin, start by identifying the top three most important things to your business. These "Big 3" should have main objectives with departmental objectives that your executive leadership reviews on a weekly scorecard.
For example, if your business is in the startup phase, your CFO will most likely be accountable for raising capital. Clearly defined measures for success in this position might look like:
Raising multiple rounds of funds

Speed and velocity of fundraising (to provide more value to investors)

Maintaining efficiency, leanness

Reporting to investors
By not clearly defining the job responsibilities (Mistake #1) you set yourself and your new CFO up for failure because of a lack of clarity on what success in the position looks like. Metrics, SMART Goals, main objectives—whatever terms you use, those clearly defined measurements of success are key to understanding if your CFO is on or off track. If you get it right, you'll have smooth sailing when preparing for year-end, CPA audits, performance evaluations, and other challenges.
Mistake #3: Hiring for now, instead of the future.
This one goes back to hiring the right kind of CFO to help your company achieve its goals, whatever they might be.
Hiring for the present rather than the future can be a costly mistake for a business. Focusing solely on an immediate need without considering the long-term growth goals of your business can lead to a mismatch between the employee's skills and the company's future goals. This can result in high turnover, decreased productivity, and the need for additional hiring and training costs.
To ensure a successful CFO search, companies need to consider not only current needs but also the future growth and direction of the business when making hiring decisions. Companies can build a strong, capable, and motivated team to drive the business forward by hiring for the future.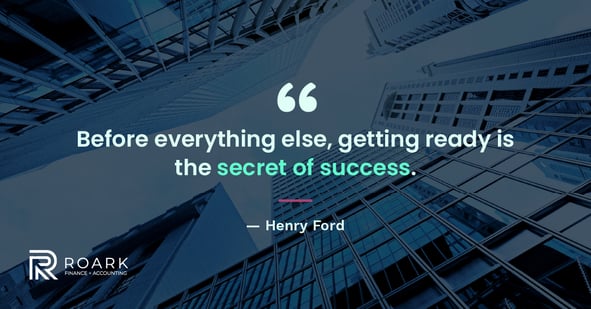 Mistake #4: Trying to do it yourself or hiring the wrong search firm.
Hiring the right talent is a challenge in any role and in the best of times. In today's job market, finding the right CFO is difficult to do-it-yourself (DIY). Would you DIY build a car? Even if you have some basic idea of how your car works, or at least understand the principles underlying the internal combustion engine, you probably aren't sure how to service one, much less assemble one. Even if you decided to dive head-first and build the car, how far do you think you could travel before calamity?
Similarly, with hiring, a DIY search and hire could end in a cataclysm down the road.
While work is piling up and you're worried about business continuity, you do not want to be stressed by an extensive search and hiring process.
You most likely weren't even thinking about trying to do it yourself, right? So, let's move on to the next mistake in this category: staffing firms.
For highly impactful positions like a CFO, staffing firms aren't enough. These positions are too consequential and require more specialization. An executive search firm will be a better investment for your financial success.
While most firms charge a retainer for search services, look for a firm that offers a contingency service, which means you only incur a fee after you hire. Look for a firm with extensive industry knowledge and one that specializes in finding top accounting and finance professionals. A firm that doesn't just fill seats, but takes the time to appropriately vet and evaluate professionals before recommending them.
Mistake #5: Missing the mark on CFO compensation expectations.
What are today's CFOs expecting when it comes to a comprehensive and competitive compensation package that reflects their experience, education, and market value? You'll miss the mark if you don't have the most current salary and benefits information to make a great offer.
This package typically includes a base salary, bonuses, stock options, and other incentives. Base salaries for executives are often in the six or seven figures and are determined based on the company's financial performance, the executive's performance, and the executive's experience.
Bonuses are also a common form of compensation for CFOs based on the company's overall financial performance, the executive's performance, and individual and team goals. Other incentives often include:
Stock options

Health insurance

Retirement benefits

PTO

Non-financial benefits such as professional development opportunities, flexible work arrangements, and work-life balance.
You may not be meeting expectations if your company does not offer these benefits.
Best Practices for Finding the Right CFO
Tip #1: Create the right CFO job description and goals to measure success
Optimize the job description for your chief financial officer — one that matches your company's stage of growth and where you want to be in the next five years.
Copy-paste job descriptions will not do! Work with a professional who specializes in assessing your company's needs and crafting the optimal job description to:
Attract suitable professionals for you

Help you measure success when it comes time for performance reviews
An executive search consultancy can do both, and even more effectively when they specialize in finance and accounting roles.
Tip #2: Bring in dedicated resources to relieve the burden from yourself and your team
Use an executive search partner that can take the burden of finding the right finance or accounting professional off your plate.
Here are a few questions to ask a potential firm:
Can you customize a hiring plan?

How can you help us keep our business running smoothly - even while we're hiring for a key roles?

How do you ensure professionals have the right technical skills and culture fit?

What types of screening processes and assessments do you use to predict fit?

Do you specialize in finding CFO or other high-level finance and accounting roles?
A firm will help you move faster and find the right professional for you when the stakes are high.
Tip #3: Hire an interim professional so that you aren't rushed to hire.
Letting critical finance and accounting tasks drop when someone is out isn't an option.
Consider hiring an interim professional when replacing a key position to immediately address the organization's needs, such as closing, reporting externally, or reporting internally. The interim professional can relieve pressure and keep the team and process running smoothly. It is crucial for an organization to have a competent CFO for success, and an interim professional can provide stability while a permanent hire is found. Taking time to hire the right professional is important to avoid future replacements.
We believe that every placement of talent, no matter the duration, should help move your company forward—not just tread water until a full time CFO is found. Whether you're looking to fill in for a CFO on leave or cover a gap between permanent hires, ROARK's interim financial professionals get the job done.
Tip #4: Pay appropriately and understand total compensation expectations for your CFO
In today's fast-paced and highly competitive business environment, executives expect compensation packages that are not only financially rewarding but also provide a positive work environment and opportunities for growth and advancement. By investing in your CFOs professional and personal development, you are more likely to find and retain top talent and stay ahead of the competition.
Offering the right compensation package to a potential Chief Financial Officer requires doing your homework. You must identify the correct salary range for the kind of CFO you want to hire and have insights into bonus compensation, paid time off, benefits/perks, and incentives. If you're hiring in the Southern California region or looking for a benchmark, we've done the hard part for you. Our 2023 Salary Guide has the most current salary ranges for CFO and C-Suite roles, along with bonus compensation, paid time off, benefits, equity incentives, hiring trends, and retention strategies.
If you need help finding a great CFO or other important finance or accounting professional, consider ROARK executive search.
To learn more or to discuss a position you need to fill, schedule a consultation.