Outsourced Accounting and Finance Team: What Does It Look Like?
September 19, 2022 •ROARK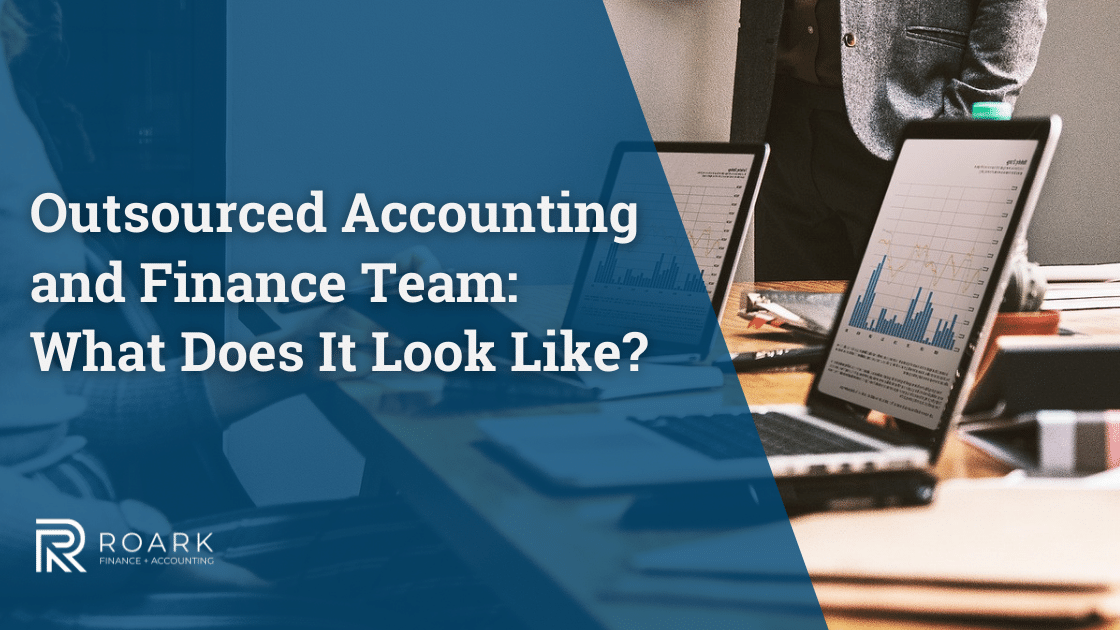 You're not alone if you're wondering if an outsourced accounting and finance team would benefit your company.
More small business owners are outsourcing to save money on accounting services. It's becoming a popular choice for those struggling to grow their companies and manage finances.
It's so popular that the global finance and accounting outsourcing market is expected to reach $53.4 billion by 2026.
When you outsource finance and accounting, you're equipped with an entire team of experts on your side to help you take your business where you want to go, all for about the price of one full-time employee.
The following list comprises the members of that elite team you could recruit for your small business. And since outsourcing through ROARK is scalable, you can use any number of these professionals to achieve your business goals.
Your Outsourced Accounting and Finance Team
Chief Financial Officer
Chief financial officers, or CFOs, are the top-level financial executives in a company. They're responsible for managing the organization's financial activity and providing strategic guidance to CEOs when making decisions. In most cases, they have a direct line to the board and directors.
Some of the duties of a CFO are:
Business and financial strategy
Securing funding
Maintaining relationships with investors
Risk assessment and management
Establishing an accounting and finance team
Providing guidance and support to senior financial analysts and controllers
Overseeing financial planning and analysis
Balancing revenues and expenses
Enforcing accounting policies and processes
Mergers & acquisitions
These are a few of the many responsibilities of CFOs. To put it simply, CFOs maintain and improve the health of your business's finances.
CFOs have become more prevalent in midsize and small companies, especially at the fractional level. CEOs are recognizing their value as expert financial advisers and are starting to see them as investments rather than expenses.
If you are considering an exit or wanting to make a merger or acquisition, some CFOs are experts in mergers and acquisitions, which are essential roles and will provide you with significant ROI. Their involvement with mergers or acquisitions successfully identifies synergies, valuable opportunities, and cultural hazards, leading to the most profitable and seamless transition possible.
Benefits of an Outsourced CFO
You can expect your CFO to provide you with the highest quality of financial management.
Once on your team, your assigned CFO will quickly take over fiscal operations and provide the most accurate information about your company's financial health. They'll then develop and implement a strategic plan to improve it.
Outsourced CFOs will save you a ton of money by eliminating their separate, hefty salaries for other endeavors. They'll direct you on how to use that money profitably, just like they'll do with your finances.
They also increase operational efficiency. With a CFO, you don't have to worry about ROI because they will create a budget, establish KPIs, minimize taxes, and keep a close eye on every operation to ensure ROI grows.
Senior Financial Analyst
Senior financial analysts are experts at researching, analyzing, and planning. They assist the controller and CFO with financial planning and close processes as needed.
Senior financial analysts are responsible for:
Budgeting and forecasting
Data visualization
Business analysis
Financial modeling, and
Utilization of FP&A software
In short, these analysts make sure accounting systems are profitable by closely examining the numbers. Their detailed reports provide controllers, CFOs, and other executives with the information they need to make decisions.
These experts have to be exceptional at organizing, analyzing, and leadership. They should pay extreme attention to detail, as their job requires the most accurate reports.
They also have to be highly educated and experienced. Typically, senior financial analysts have a bachelor's degree in accounting or finance with 4-6 years of experience as mid-level financial analysts.
Mid-level analysts are only promoted to the senior position when they've proven themselves effective leaders and communicators with expertise in accounting systems and technology.
Benefits of an Outsourced Senior Financial Analyst
When you outsource with ROARK, your senior financial analyst will immediately begin evaluating your company's financial data, developing automated reports, and making forecasts. They will also develop complex statistical models to show you exactly where your relevant revenue drivers are.
They're the bridge that brings financial data to executives in clear, streamlined ways. They're vital for businesses and are the ones who get the gears turning from the directive of their controllers or CFOs.
Financial Controller
Regarding the hierarchy, controllers are mid-level managers that report directly to CFOs and are in charge of the entire accounting department and its operations.
Their responsibilities include:
Developing monthly financial statements with variance analyses
Increasing efficiency by streamlining processes
Making recommendations and helping implement changes to internal controls
Maintaining cash flow
Implementing bookkeeping policies
Directing the development of budgets and financial forecasts, and
Ensuring accuracy of reports and ledgers
A controller is a company's lead accountant. Although they're directly in charge of financial operations, they're also a part of an abstract and idealistic effort within the company to reach significant goals.
Benefits of an Outsourced Controller
When you bring on an outsourced controller through ROARK, they'll get to work directing internal audits, focusing on frauds and errors before making improvements.
Controllers can benefit small companies by taking over the management of functions like payroll, receivable, collections, and accounts payable.
Once businesses get off the ground and bookkeepers cannot keep up with the increased workload, controllers become crucial components of your finance department. And as the company grows even more and hires more people, your controller will delegate specific tasks and focus more on managerial affairs.
Senior Accountant
Senior accountants are more advanced than lower-level accountants and take on critical managerial roles. They were promoted after many years in the industry and demonstrated excellence in their collaborative and leadership skills.
The responsibilities of a senior accountant include:
Managing your chart of accounts
Review General Ledgers (GL) for accuracy
Preparing month-end close entries
Performing General Ledger account reconciliations, and
Supporting the back office team
Senior accountants are primarily concerned with the integrity and strategization of their accounting department.
They'll check for integrity by ensuring that other accountants are following procedures. As for strategizing, senior accountants will manage company finances by researching ways to reduce costs and increase revenue.
Benefits of an Outsourced Senior Accountant
When you bring one of our senior accountants onto your team, they'll take over the administrative tasks of gathering data, developing balance sheets, and compiling journal entries.
From there, they'll send off their information to financial analysts, who will interpret it and make reports and forecasts to share with the controller and other executives.
As a member of your finance team, a senior accountant will ensure that the vital review process is handled expertly.
Back Office Support
At ROARK, we provide back office support in the form of accounts payable (AP), accounts receivable (AR), and payroll.
We utilize AP/AR workflows and automate what we can to ensure the most streamlined payment processing systems.
Your accounts receivable will process and send invoices and define policies and procedures for efficient AR processing. They'll also collect outstanding invoices and capture and code data from invoices to correct accounts and cost centers.
Accounts payable will complete the end-to-end process of obtaining goods and services. This includes the processing and payment of the invoices related to those transactions.
Our back office support will take care of every aspect of payroll, including calculating total wage earnings, withdrawing deductions, coding payroll to proper GL accounts, and filing payroll taxes.
In addition, our back office support will provide:
Fixed asset management
Basic financial statement preparation, and
Monthly bank account reconciliations


What an Outsourced Team Looks Like For You
It is crucial for companies to separate financial responsibilities and regularly perform checks and balances to prevent fraud. This process can get complicated on your own, but you can pass off this responsibility to us.
Outsourcing through ROARK means congruency, ease of mind, and savings. With the cost of only one full-time professional, you could be reaping the benefits of a fully customized and comprehensive finance team.
Our outsourcing is flexible, meaning you can scale them up and down as needed. If business is good, you can bring on more accounting professionals. If you're implementing a one-time project or software, we can provide extra support to make it happen.
We'll help you "graduate" to the point where you can support your own internal accounting team. We'll teach you to plan your organization and hand it off when you're ready.
When it's time to hire your own team, we'll know you so well at that point that we can find our replacements for you! Our Executive Search division can help you recruit and hire the best people for your company without combing popular job sites.
Moving Forward
Set up a consultation with us to streamline your finances and achieve your business goals.
We're happy to discuss your challenges and provide insights and solutions for your financial worries.
Whether using our Executive Search directive to find the best talent or outsourcing our accounting and finance professionals, we'll help you take care of your company's finances to focus on growing, strategizing, and preparing for what's ahead.