Outsourced vs. Full-Time Financial Teams: Which is Best?
September 19, 2022 •ROARK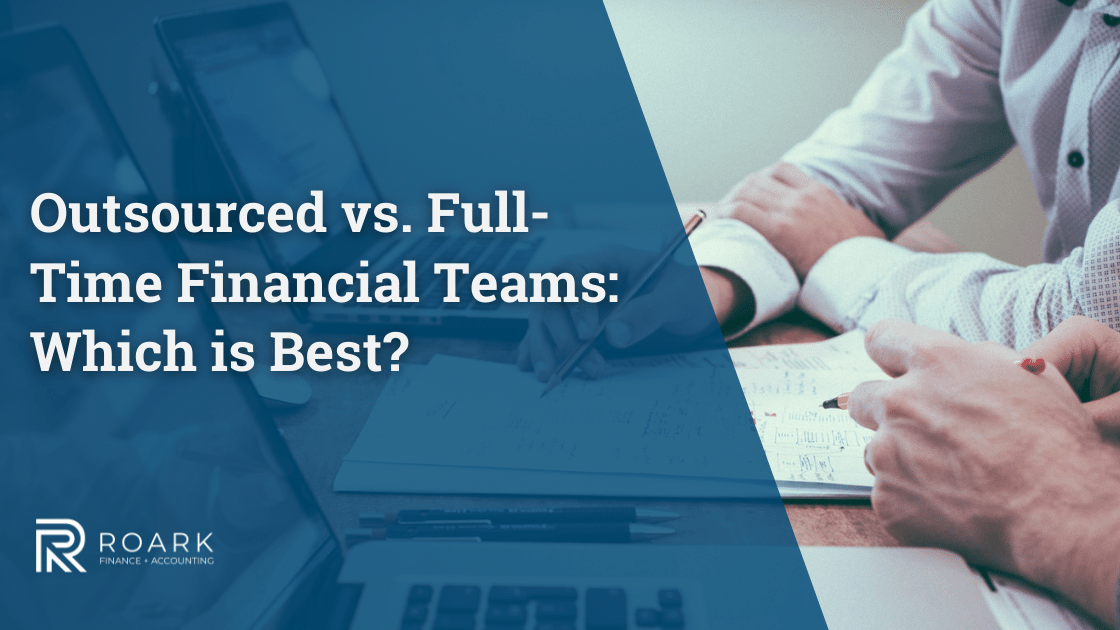 All too often, business owners struggle with financial management and goals that are crushed by the weight of employee turnover, disorganized information, and lackluster talent.
This is especially true for smaller businesses. These owners are losing sleep worrying about their company's success and if they're doing it right. This is when they consider hiring finance and accounting specialists.
Since many small businesses can't afford to hire an entire finance and accounting team, they hire distinct roles like bookkeepers or accountants to handle finances.
As your business expands, your need for more finance and accounting professionals does too. You will then face a crossroads: do you hire more talent and build an internal infrastructure from the ground up, or do you bring in an outside source to take over?
What is Outsourcing?
When you outsource your accounting and finance departments, you're utilizing an external firm's resources to bring in skilled professionals instead of finding them independently.
This allows you to establish a financial infrastructure from the ground up without having to worry about things like turnover and auditing.
The level of service from outsourcing varies depending on your company's needs. If business is good, you can bring in additional accounting support, higher-level services, or assistance with one-time projects. Outsourcers will quickly grow with your business and adapt to any of its changes.
Should I Outsource For My Business?
To determine what's best for your company's growth, consider bookkeeping, accounting, and controlling professions. They handle different levels of your accounting department. When you compare their roles to your company's overall needs, you'll be able to determine if you need to outsource.
Types of Accounting Professionals
The Role of a Bookkeeper
Bookkeepers are the administrative organizers of your company's finances. They are responsible for:
Recording financial transactions
Posting debits and credits
Creating invoices
Managing payroll, and
Maintaining ledgers and accounts
Bookkeepers create and maintain databases of information regarding your company's finances. They develop a clear picture of your company's cash flow by establishing an organized paper trail that isn't just a pile of receipts.
Without proper bookkeeping, your company won't know how it's doing financially, and it'll be impossible to evaluate progress or make projections.
When tax time comes around, companies without proper bookkeeping scramble to gather all necessary documents and likely miss out on small details that create a slow leak, putting your company in danger of an IRS audit or revenue loss.
If your company is a ship, bookkeepers are the ones who help keep it from sinking by plugging up those small leaks. These leaks can look like incorrectly paid employees or misreported deductions and make tax reporting a nightmare.
If you're audited without a bookkeeper, you'll likely end up paying exorbitant fees to accountants who have to take significant time to sort through your company's disorganized records.
What Bookkeepers Don't Do
Bookkeepers take care of the data gathering and organization, but they do not create financial statements or reports. They don't analyze the data -- they only present it to you.
Therefore, bookkeepers don't require formal education and typically have the lowest salary of any financial assistant position.
Do I Need a Bookkeeper?
If you're wondering if you need to hire a bookkeeper, consider your company's needs. Would your team benefit from a purely administrative role? The bookkeeper will only handle the administrative side of finances and won't be involved in the analysis and projection of financial reports.
Is your company's transaction volume heavy enough to need classification by a bookkeeper? Full-time finance services like bookkeeping are vital when companies grow to more than $30 million in revenue. For revenue below $30 million, outsourcing bookkeeping can be a cost-effective yet beneficial option.
Remember, bookkeepers are only reporters of information. This role will not help your business grow, but it will ensure that the transactional data is correct and up-to-date so the other finance staff members can help you advance and succeed.
How Much Is a Bookkeeper?
According to our 2022 Total Compensation Guide, the average salary for bookkeepers in Southern California is:
Inland Empire - $55K-80K
Orange County - $57.5K-85K
Los Angeles - $59K-90K
San Diego - $57K-$82K


The Role of an Accountant
With bookkeeping, you get an accurate overview of your company's finances, and they show you exactly where your company stands at present.
Accountants, on the other hand, interpret bookkeeping data and provide financial insights. They develop their insights into financial reports for your company in the form of balance sheets, income statements, and cash flow statements.
Accountants require rigorous training and education and can specialize in different disciplines like cost accounting or taxes, also known as CPAs. Degrees are usually required, and CPA certifications make them more appealing as employees.
What Accountants Don't Do
Accountants are hugely beneficial to business growth, but only if used correctly.
If your accountant is doing any basic bookkeeping, you're overpaying them. You should delegate that role to the lower-paying position, and the accountant should be left to more critical tasks.
Accountants are typically not forward-thinking, and you shouldn't expect them to make future predictions or plans for growth. Instead, use their skill to analyze current numbers compared to past ones, like last year's and this year's reports.
Do I Need an Accountant?
Accountants are vital members of your finance team. If your business is booming, consider hiring one as soon as possible.
That said, don't expect an accountant to single-handedly run an entire accounting operation or drive your business forward. They don't generate ideas, but rather give you the framework for other finance team members to come up with them.
When it comes to analyzing and boosting your company's growth, an accountant will provide reports and explanations of your finances to help you make the best decisions possible.
If you hire a financial accountant, remember that the position is one of the hottest in the industry. It's very competitive with high turnover rates, especially in smaller organizations. Finding the right one, compensating them fairly, and assigning them correctly is vital to retaining the best talent.
How Much is an Accountant?
Our 2022 Total Compensation Guide reports the average salary for senior accountants in Southern California as:
Inland Empire - $75K-110K
Orange County - $85K-115K
Los Angeles - $90K-125K
San Diego - $85K-110K


The Role of a Financial Controller
Controllers are senior-level managers that oversee all accounting operations and report to CFOs. They're critical factors in strategic planning and managing risk for a business's future.
Financial controllers are responsible for:
Setting up accounting infrastructure
Streamlining accounting processes (including financial close processes)
Preparing financial reports and statements, and
Implementing financial controls
Controllers are highly-skilled leaders that usually require an advanced degree and extensive experience in accounting and finance.
What Controllers Don't Do
Generally, controllers shouldn't be responsible for the following:
Bookkeeping
Financial planning and analysis, including:
Budgeting and forecasting
Financial modeling
Business analysis
Scenario planning, and
Data visualization
Strategic financial guidance at a CFO level, such as strategic growth, fundraising or capital Raising, and M&A activities.
Should I Hire a Controller?
Financial controllers are great hires if you have a well-established and growing business. However, only do so if you can also afford to hire a team underneath them to assist in clerical duties like bookkeeping.
You can tell if your company needs a controller if:
Your financial reports are late or inaccurate
Your CFO spends too much time on operations
Your accountant is overworked, or
You're worried about compliance
Keep in mind that the controller career is very dynamic. Chances are, your controller will have opportunities to work with larger businesses after gaining experience with you. 35% of controllers will only work for 1-2 years at a company before moving on.
If you hire a controller, ensure that their infrastructure is built and processes are documented. This sets you up for success, especially if the person leaves the company. If they hadn't set it up, it would be a painful process to restructure.
How Much is a Controller?
The average controller salaries in Southern California are:
Inland Empire - $125K-165K
Orange County - $150K-210K
Los Angeles - $150K-230K
San Diego - $135K-200K


Outsourced Finance and Accounting Teams
When you outsource your finance and accounting team at a fractional level, you have the exact level of service needed to help your business grow.
Typically, an outsourced team consists of a CFO, controller, senior accountant, and a senior financial analyst, with back-office functions like accounts payable, accounts receivable, and payroll.
At ROARK, we specialize in building outsourced teams around industry experience so they can quickly add value to your organization and understand key drivers of your business. We help various businesses but have niche expertise in construction, manufacturing, and nonprofits.
Outsourced teams are highly beneficial to growing businesses in two ways: they cost less than full-time staff and eliminate turnover.
Lowered Cost
By outsourcing to ROARK, you'll benefit from an entire accounting and finance team for a simple monthly fee equivalent to one full-time salary.
You can also scale our services to adjust to the growth of your business. If you have a busy season, you can add more resources to succeed. Pull in additional resources if you take on extra accounting or finance projects.
Eliminated Turnover
Hiring quality talent is a significant issue in finance and accounting for businesses of all sizes. It's especially hard-hitting for smaller businesses because they don't have the budgets, benefit plans, and career paths that large companies do, making them more attractive to skilled professionals.
When it comes to turnover, companies with smaller budgets suffer more when it happens, especially if it's a finance or accounting position. Bills have to get paid, employees need to be compensated, customers need to be invoiced, and payment needs to be received. An interruption in this intrinsic process can be detrimental.
By outsourcing to ROARK, we'll take on your turnover burden. We hire a high-quality network of finance and accounting professionals by providing challenges and opportunities for advancement.
Our finance and accounting professionals are also cross-trained in various positions, so when assigned to your fractional accounting team, there's zero disruption in operations if an employee leaves. There's always someone prepared to step in and help.
When you work with us, you won't have to worry about the hassle, cost, and training involved in employee turnover. We'll take care of it all.
Which is Better: In-House or Outsourced Teams?
Choosing in-house or outsourced accounting and finance teams depends on the company's size. For businesses with revenue over $20-30 million, hiring full-time professionals and developing an internal infrastructure will become a priority.
For businesses under $30 million, we recommend our Outsourced Finance & Accounting Solution. This gives you the expertise, service, flexibility, and cost savings you need to "graduate" to support an internal finance and accounting infrastructure in the future.
Do I Need to Outsource My Accounting and Finance Department?
Some factors to consider when contemplating outsourcing are your company's volume of transactions, the number of locations, and the complexity of its finance and accounting needs.
If your business is under $20 million in revenue, you may need to outsource if your finance and accounting department:
Struggles with turnover
Doesn't have enough information to grow quickly or make decisions
Lacks talented and skilled professionals, or
Can't afford to hire more talent at the current stage


Elevating Your Company's Growth with ROARK
At ROARK, we take your business's financial success very seriously. That's why we provide customized solutions to boost growth and tackle major projects like mergers and acquisitions, ERP implementations, GAAP compliance, and audits.
If you're looking to outsource your finance and accounting, our Finance & Accounting as a Service will give you a team of expert finance and accounting professionals who will do it all for you.
If you're looking for specific in-house talent, our Executive Search in Finance & Accounting solution will help you find them. ROARK has a highly skilled team of CPAs, MBAs, and Executive Search Consultants that have helped hundreds of clients across Southern California.
If you don't know if you need outsourcing or not, schedule a call with us! We'll create a customized solution for your company, hiring one exceptional professional or bringing on a fractional team of finance and accounting professionals.
No matter your business needs - we're here to help. We'll take care of the logistics so you can focus on growth. With our resources, your accounting and finance department will flourish.
Schedule a free call with us, and we'll be in touch shortly. We're excited to help your team grow.