What You Need To Ask Before Outsourcing Finance and Accounting Services
September 11, 2022 •ROARK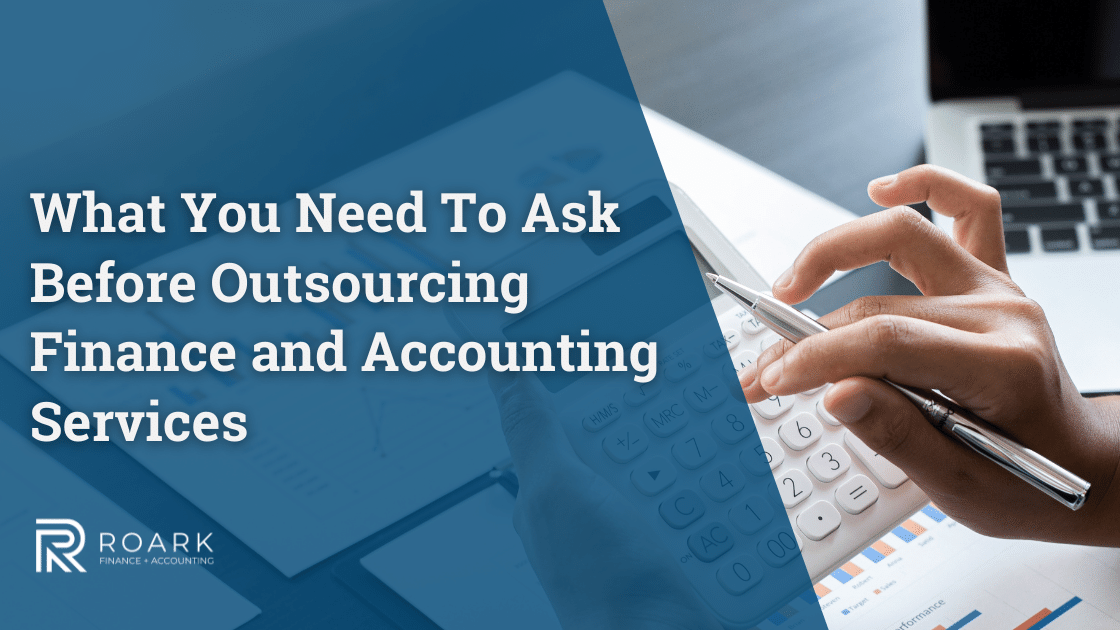 Whether you're an established business or just starting, you may consider outsourcing your finance and accounting operations. There are many benefits an outsourced service provides. For example, when you can't afford a full-time accounting team, an outsourced company can offer the services you need at a price that fits your budget.
There are a couple of ways to outsource your finance and accounting operations:
#1. Partial Operations
You may need just a few parts of your finance and accounting operations managed. For example, say you need help balancing your accounts, but you have an accountant who does your taxes. An outsourcing provider takes over these functions and ensures your accounts are balanced and up-to-date.
#2. Full Operations
Outsourcing your total finance and accounting operations is an excellent idea if you're a small- to mid-sized business with no budget for a full-time accounting and finance team. In addition to not hiring full-time employees, a finance and accounting outsourcing firm provides a singular focus on your account and operations, giving you time back to focus on more critical business needs.
No matter how you choose, outsourcing your finance and accounting operations helps you grow your business and focus on important decisions that affect your day-to-day operations. This is where a Finance and Accounting as a Service comes in and provides consulting and search services to help you find the right provider.
Read on to get real answers to the most commonly asked questions when it comes to outsourcing finance and accounting.
What's the difference between Accounting & Finance?
First, let's look at what we mean by outsourcing finance and accounting. Accounting focuses on the day-to-day flow of money in and out of a company, and finance is a broad term for managing assets and liabilities and planning for future growth. In addition, accounting focuses on past accounts payable (AP) and accounts receivable (AR) data to forecast the future and find strategies to leverage this data to increase revenue and scale your business. For additional information, check out this popular blog post on the difference between finance and accounting.
What is Finance and Accounting as a Service?
Small and mid-sized businesses are prime for using Finance and Accounting as a Service because they can obtain straightforward accounting and finance needs with their lower transaction volumes while still having the ability to easily scale as their business grows. An outsourced finance and accounting service can offer support with daily bookkeeping as well as provide expert assistance to address the daily financial needs of the business.
Your company may already have a bookkeeper on board to record financial transactions and balance your AP/AR ledgers. However, even with this work being performed by a bookkeeper, you still lack the intelligence, insight, confidence, and strategy to take operations to the next level – that is where the services at ROARK come in.
If this sounds like your company, then you're the type of company that Finance and Accounting as a Service helps. Outsourcing these services provides a cohesive team of financial experts who use proven workflows and cloud-based technology to create a comprehensive finance solution for your business.
Services look very different from a typical accounting firm. Most finance and accounting services use a subscription-based strategic support model with billable hourly compliance and reporting. With these functions outsourced, you can pay for performance, manage cash, and dip in and out of services as needed. A Finance and Accounting as a Service provider scales as your business grows, offering the peace of mind that your finances are managed.
The services an Finance and Accounting as a Service offers depend on the specific business needs and offer subscription or standard packages. Some functions that outsourced finance and accounting services include are:
CFO Advisory Service
Financial Planning & Analysis
Controller Leadership
Budgeting & Forecasting
Financial Modeling
Data Visualization
Financial Statements & Reporting
Month-End Closing
Internal Control
Fixed Asset Management
Payroll Processing & Accounting
Accounts Payable/Receivable
General Ledger and Account Reconciliation
Bank Account Reconciliation
What Are the Advantages of Outsourcing?
Outsourcing finance and accounting services can help you grow your business, but most often business owners don't know how outsourcing these services can help. All too often, companies think of finance in the traditional sense.
Outsourced finance and accounting help a business think strategically, and track the pivotal KPIs for growing your business. When outsourcing these functions, you get an expert and trusted advisor to handle confidential information about your business and financial strategy. When you partner with the right finance and accounting service, you gain invaluable insights into your business's cash flow and analysis of how you're succeeding or how close you are to potential collapse.
Why Should I Consider Outsourcing Accounting & Finance Services?
Outsourcing your finance and accounting operations gives you access to a team of experienced finance and accounting experts with CPAs and MBAs. This experience is critical to small and mid-sized businesses that don't have the luxury of hiring a whole team of experts to manage their entire finance and accounting functions. An outsourced finance and accounting service gives you access to these types of experts and more, working on your behalf with unique skill sets, experiences, and education.
In addition to having access to expert professionals, you eliminate the cost and time spent hiring and training an entire team. Outsourcing also means that you don't have to deal with employee turnover in your finance and accounting team. When businesses can't hire a team, they often employ an individual to manage their accounting and can't add the additional expense of hiring someone in finance. Outsourcing alleviates the stress on the individual and provides an entire team of accounting and finance professionals.
When Should I Consider Outsourcing Accounting Services for My Business?
The simple answer to this question is that anytime you feel your accounting and finance operations become too big for one individual to manage and you can't afford to employ a whole team. The costs of hiring an in-house accounting professional, even part-time, are often too high for startups and fast-growing companies. This is especially true for smaller businesses with less than $30 million in revenue. Outsourcing your finance and accounting operations is the most efficient and cost-effective way to leverage the expertise of professionals.
Some companies consider outsourcing as they develop their business plan, while others take a wait-and-see approach. Either way, the idea is to have the right finance and accounting team in place to scale and grow your business in the future. Not to mention, outsourcing finance and accounting isn't just simple accounting. From startups to Fortune 500 companies, these businesses benefit from a wide range of comprehensive Finance and Accounting as a Service support, including:
Financial planning and analysis (FP&A)
Strategic advisory and transparency
Controller leadership and CFO services
Mergers and acquisition
Audit support and insight
Implementation and compliance
Does Outsourcing Accounting Cost More Than Using In-House Resources?
Looking at the big picture, outsourcing services cost less because you avoid the expense of hiring, onboarding, training, and providing benefits for one or more employees. However, in addition to the human expense, things like hardware, software, and continuing education add up and may price you out of being able to hire a dedicated team for your finance and accounting operations.
In addition to direct cost savings, outsourcing provides indirect savings. These savings come from streamlined operational and reporting processes, increased task-on-time, and decreased cost, as there is one less item to account for on your business reports.
Outsourcing Finance and Accounting as a Service provides savings that positively impact business finances and growth. Choose only the services necessary for your business to ensure you don't pay for, or waste time evaluating, unnecessary data reports. You can instead reallocate the resources formerly lost to lengthy pages of in-house financial statements and services. Now, you and your stakeholders can focus more on essential internal objectives, in particular:
Strategy and development
Recruiting and resources
Marketing and visibility
Outreach and impact
Reporting and methodology
Performance and review
Can I Trust Outsourced Finance Services To Be as Reliable as an In-House Team?
Reliability is often determined by completing a job efficiently and effectively. Finance & Accounting servicers will know what's at stake from the discovery meeting with clients. As a result, individualized consultation and customized analysis are among the first steps in determining your company's needs.
Other concerns come from questions of reachability and reliability for a quick response if security concerns arise. To combat any distress about off-site data protection and support, business owners should ask about a few critical details before checking off on data security, including:
data encryption and firewalls in place
updated industry training and regulations
knowledge and communication of compliance
access to your data with access restrictions in place
certified by an independent organization
outline of data backup procedures
What Is The Onboarding Process Like?
At ROARK, the first step will be to complete a Finance & Accounting Assessment. Then, we'll ensure that you understand opportunities for improvement and opportunities to improve the business with better financial information and advisory services. From there, we'll either make necessary improvements or move into ongoing services to get you great financial information to run your business better.
Can You Help Us Move From Cash Accounting to Accrual Accounting?
Yes, as businesses grow or start to take on finance or equity partners, a need to transition from cash accounting to accrual accounting (GAAP-based financials) becomes essential. We can help you make the transition and will work with you to do this, while demonstrating how this method is a more accurate and helpful way to manage your business.
Does an Outsourced Finance and Accounting Firm Do the Same Thing as My CPA, File My Year-end Tax Returns, or Do My Financial Statement Audit?
Outsourced finance and accounting is not a CPA firm. Many professionals on the outsourced and finance service provider's team will have CPAs and MBAs. Still, outsourced finance and accounting firms focus on managing the business's finances to grow the business versus focusing on taxes, minimizing taxes, and performing audits. Outsourced finance and accounting firms, like ROARK, make going through financial statement audits (completed by CPA firms) - smooth and easy.
What Is In The Contract?
Before handing over your finance and accounting functions, create a contractual agreement that sets clear roles, expectations, and recourse for both sides to minimize any service hiccups. The contract should include the needs and expectations of your business, matching the right Finance and Accounting as a Service to be outsourced. Standard contracts cover basic terms but ensure you have specifics:
Deliverables by name and updated image
Standard and rush timelines for each deliverable or monthly deliverables
Precise quality control and key performance indicators
Detailed operating and communication procedures
Information access and privacy protection
Contract term violation recourse and termination
How Secure Is Outsourcing Finance & Accounting as a Service?
Business functions contain sensitive information and, by default, considerable risk. To help counter privacy concerns, your data must be a top priority for the services provider you select. Professional, established firms are generally very transparent about the security measures used to protect your information. Otherwise, requesting the certifications and procedures required for compliance is in your best interest. An ideal outsourcing partner will protect your data storage, enhance security, and educate staff to mitigate security risks.
Will Outsourced Finance & Accounting Services Scale as My Business Grows?
The simple answer to this is yes. However, not every outsourced finance and accounting firm has the resources and ability to scale with you. Let's say for example, you have a business that experiences high sales over the holidays but the summer months are slow. Your outsource firm should be able to add more resources to help during peak times and then reduce resources to manage finance and accounting functions during slower times.
Your outsource consultant should help you create a growth strategy that eventually "graduates" you from their services. Once you graduate, you'll likely have an in-house resource or team to manage your day-to-day accounting needs and a CFO for strategic financial decisions to help scale your business.
To get you ready for "graduation," your outsourced team helps implement new software and solutions, for example, an ERP system, to manage your operations and customers. Additionally, the right firm should act as a consultant to help you find the right resources for in-house finance and accounting operations. From creating job descriptions to finding the right candidate, your outsourcing firm should be with you from day one and set up your in-house team(s).
Do You Work With Our Accounting System?
Many outsourced finance and accounting service providers work with many different types of accounting softwares and ERP systems. At ROARK we are experienced in many key systems like Netsuite, Quickbook Sage, Xero, and many more industry specialized accounting softwares.
Does Outsourced Finance and Accounting Modernize Business and Automate Processes?
Automating key processes like accounts receivables and payables are common processes that an outsourced service provider can help automate. At ROARK, during our assessment we look at ways to streamline and automate processes to close your books quicker and get you the financial information you need each month.
Is ROARK the Right Finance & Accounting Firm for My Business?
We are proud to offer an extensive services portfolio to meet the needs of diverse clients, but it can be challenging to decide which services are right for your business with so many options. To take away the guesswork and save time, we invite you to schedule a customized consultation to determine which Finance and Accounting as a Service your business would benefit from outsourcing right now.
Schedule a no-risk consultation to learn about the advantages of outsourcing Finance and Accounting Services.