Which Is Better? Outsourcing Or Keeping Accounting and Finance In-House
August 29, 2022 •ROARK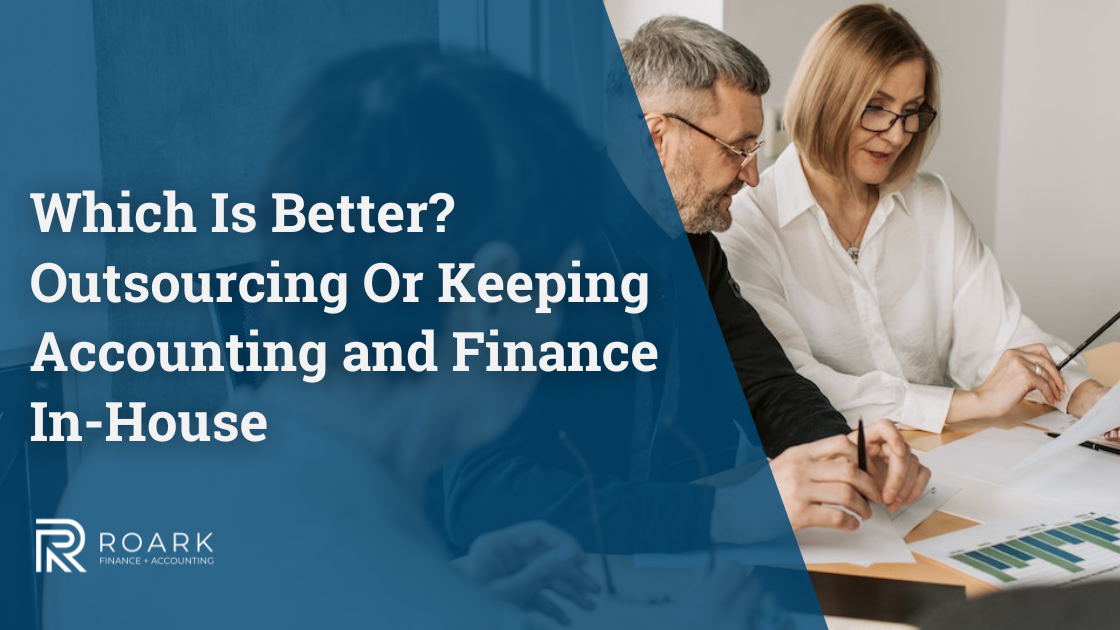 Outsourcing accounting and finance can be a blessing for small businesses under $20 million in revenue. It's cost-effective and frees your time to focus on growing your business. But, once you reach a certain point, you may be better off with a full-time accountant to manage the financial operations.
In-house accountants and outsourced accountants offer different workflows when it comes to managing the accounting and finance for your company. We understand that outsourcing is not suitable for every business – but if it does fit your business needs – it can often cost much less while providing you with more value and, often, higher quality and expertise than a traditional in-house.
So, how do you know which is best for your business?
To start, ask these two questions:
Which option is the most cost-effective for your accounting needs?

What are the reasons to hire someone instead of outsourcing?
Whether you decide on an in-house accountant or use an outsourced accounting service – one thing is certain – weighing the pros and cons of each option will help you answer these two important questions. In this article, we're going to share with you the pros and cons so you can feel better about the decision that works best for your business.
Why You Should Choose An In-House Accountant
Reason #1: In-House Has a Set Cost
You have very specific, specialized, or unique accounting needs. The more complicated the accounting and finance, the more expensive outsourcing becomes.
Reason #2: In-House Has a Set List of Tasks
Hiring someone allows you to set the tasks they perform - even tasks beyond accounting. Outsourcing services usually offer a package of performing functions, which may not always fit your needs.
Reason #3: In-House is Convenient
It's easier and faster to walk a few steps to the office next door than to email or call someone across the country or on a different continent. Having an in-house accountant saves you from time on hold and trying to get to a real person on the other end of the line.
Reason #4: In-House has Adaptability to Needs
Multi-tasking is essential in growing companies. Outsourced accounting professionals are busy handling multiple clients and often don't have the time to meet your needs outside of your accounting and finance package without additional fees. Having someone in-house allows you to have the ability to add or take away tasks from your in-house accountant as your needs change.
Reason #5: In-House had Unmeasurable Value
An in-house accountant brings an unmeasurable value to your business - loyalty. Outsourced accountants generally handle multiple clients and don't have a vested interest only in your company. An in-house accountant has greater ownership over their work and understands how their work contributes to your business's success.
Reason #6: With In-House There's More Control
With an in-house accountant, you have more control of the processes performed to manage your accounting and finances. An external accountant uses best practice processes that may not fit your business perfectly.
Potential Issues With An In-House Accountant – The Cons
Issue #1: In-House Can Have Less Value
There are times when your business is less active than usual. During these times, your full-time, in-house accountant is less valuable than during busy periods. This results in higher costs and lower benefits during the slower times of the year.
Issue #2: You're Not a Hiring Expert
You aren't an accounting expert, making it harder to recognize the right candidate. Outsourcing ensures you get experts in multiple areas of finance and accounting. When outsourcing with a good firm, all of these experts are working with your business fractionally.
Issue #3: Revisions Take Time
Creating processes is time-consuming, and some experience and expertise come in handy. If you select a less experienced accountant, you may be revising procedures for the next few years. However, without knowledge of systems and processes, the chances are that these revisions may not always be improvements to your operations.
Issue #4: Employee Benefit Costs
A full-time (or even part-time) accountant means you'll be paying for their salary, benefits, office space, software, and more. Outsourcing provides these benefits while you pay a monthly fee that includes all these costs.
Issue #5: You'll Need a Team
One full-time accountant can not do it all. Just as in any business function, there are different levels of specialty in accounting and finance. A bookkeeper is not an accountant. An accountant is not a financial analyst. A financial analyst is not a Controller. And a Controller is not a Chief Financial Officer. These roles all have different experience levels and expertise making it difficult for one accountant to meet all of your needs.
Issue #6: Turnover is Time Consuming
Turnover is a major issue for businesses, and when you have one individual on your accounting team, and they leave voluntarily (or involuntarily), it can cause serious issues. Bills must be paid, invoices must go out, employees must be paid, and the business owner needs to understand how the business is performing with accurate and timely financial statements. When an in-house accountant turns over - it's a major headache.
Reasons Outsourcing May Be Right For Your Business
Issue #1: Saves Valuable Resources
Outsourcing your accounting and finance department saves you time and money. It reduces overhead costs like recruiting, benefits, training, hardware and software, supplies, and office space. In addition, you aren't responsible for managing processes. Outsourced accounting firms provide the training and system upgrades included in your package.
Issue #2: Expansion and Growth
Outsourcing your accounting allows you to expand and grow your business without needing to add resources and headcount. As your business grows, an outsourced team continues to provide back office support without the investment of in-house staff to manage the financial side of your business.
Issue #3: Efficient and Effective Use of Time
Outsourced accounting teams use best practices to perform processes efficiently and effectively. Using these practices, you can reduce the time it takes to close your books each month and have better visibility of your cash flow.
Issue #4: Reports on Demand
Accounting firms can provide reporting when needed - you may want weekly, monthly, quarterly, and yearly. An outsourcing firm provides the benefits of years of experience in reporting to offer suitable options for your business.
Issue #5: Accurate Financials
Accurate financials provide a potential buyer the security that you get a complete picture of your business's financial health. Accurate financials make business reporting and analysis much smoother and provide the in-depth details management needs to make informed decisions.
Issue #6: Better Informed Decisions Making
Many small businesses can only afford to do bookkeeping and accounting. Accounting is the process of looking in the past. By outsourcing finance and accounting, you're able to leverage finance - planning and projecting your business in the future. This allows you to make better informed decisions and truly prepare and manage the business against a plan and an ongoing updated forecast.
Potential Risks Of Outsourced Accounting
Risk #1: Additional Cost
As with any paid service, one task may snowball into others and result in additional costs you didn't plan for. Therefore, you need to keep track of the tasks and evaluate the potential risk to set realistic expectations to minimize the chances of tasks becoming too complicated or involving multiple parts of your business accounting.
Risk #2: Lack of Immediate Communication
When using outsourced accountants, you can't just walk down the office hallway to ask about issues or check in on projects. While you can call your account manager and set up a schedule of weekly calls, you have to trust that they are accurate and up to date because you'll often have to rely on that trust until you get your scheduled meeting in since your outsourced accounting team also has other clients to tend to.
Risk #3: Time Zones Create Slower Responses
If you need something immediately – like an analysis of a specific report, you aren't likely going to get it shortly after you request it. This is due partially because the outsourced team may not be local, so you may not get answers instantly due to the time zone difference. The firm should have communication policies in place to ensure they are easy to reach, but when there's a pressing issue, it may take time to get a response.
Choosing An Outsourcing Partner
If you're a small business with under $20 million in revenue and lose valuable time and money doing your own books or paying an in-house accountant, it's time to take a look at outsourcing your accounting and financial tasks. Now that you are aware of the amazing reasons why you should hire an outsourced accounting partner, you'll now need to focus your efforts on finding the right cost-effective firm with the expertise to meet your business needs.
Here is a list of things to consider before hiring an outsourcing firm:
1. Determine your business needs:
Do you need complete financial service or only need specific tasks completed?

Does your industry require privacy and security measures?

Do you need general accounting or CFO consulting as well?



2. Budget:
What you can afford to spend.

Type of services needed.

The value that outsourced services bring to your company.

Compare the cost of hiring an in-house accountant vs. the outsourcing company's fees.



3. Consider the benefits the service provides:
Infrastructure and software used,

Internal control measures and security compliance.

Advanced processes and controls that offer efficiency and accuracy.

Type of reporting available and frequency.

Communication methods - regular communication, emergency response, etc.
4. Reputation:
Look at client testimonials.

Research businesses with similar financial needs in industries similar to yours.

Find online reviews and read what past clients say about work quality, performance, and employees.
Send a trial project:
A trial project lets you evaluate performance and suitability.

Consider compatibility and communication during the project - How well does the vendor work with your staff? Do you see any communication gaps that could negatively impact your business?

Look at efficiency and performance - Did the team perform well on the work provided?

Evaluate how well their work meets your business needs. Use an objective KPI metric to consider efficiency, communication, and accuracy.
Finding The Right Outsourced Finance and Accounting Firm
As you can see, when hiring a Finance and Accounting Firm, there are a lot of considerations before making a decision. However, hiring a knowledgeable team can make the difference between financial success or failure. At ROARK, we provide teams of accounting and financial professionals trained in every aspect of business accounting and financials.
Because you have a team of professionals, you'll have the security that checks and balances are in place to ensure accurate document control, regular reporting, and effective communication. In addition, ROARK tracks all your business information, and you can access your data and see the file organization, documents, and accounting tasks performed.
Outsourcing with ROARK provides better service that is more affordable and eliminates in-house accounting turnover. So if you're ready to find an accounting partner with the teams in place to manage your accounting, contact ROARK today.